Skyline Parkway Motel… people were charged!
August 7, 2004, 1:04 AM
An update regarding the recent fire at the Skyline Parkway Motel…
Turns out that it was arson, which we were not surprised about. And the building is a total loss. Also not a surprise. The surprise is how old the three suspects are. There are two 16-year-olds and one 17-year-old charged with the Class 4 felony of setting fire to an unoccupied dwelling. I'd have thought it would have been people who were at least legally adults, rather than kids. But go figure. Anyway, though, since they are children in the eyes of the law, or as the law calls them, "juveniles", their names were not released.
I understand why their names were not released, but I so want to put the "Nick and Adam" theory to rest. Recall that some days before the fire, the previously-blank sign in front of the motel read "NICK AND ADAM". Recall this from a previous journal entry: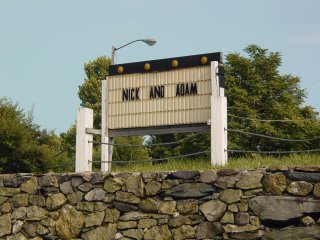 I so want to put that theory to rest and either have it be the case or not be the case, because I really want to see if people are actually stupid enough in real life to prominently place their name on the crime scene, showing to the world how stupid they are. Just remember… never underestimate the power and speed of stupid.