The little kiddies go back to school soon, and vacation is on the 11th…
August 3, 2004, 12:00 AM
I don't care if it's only two days. I plan on making the most of those two days at Virginia Beach, and don't let anyone tell you otherwise. And at this last count, it will be a week and a day as of tomorrow. I can't wait. And this time I know exactly how to get there, since no one changed the route number on me this time.
Recall from 2000, when I last went to Virginia Beach, that I actually rode almost completely around the Hampton Roads area, or as it's also called over there, the "Hampton Roads Beltway". Before 2000, I had gone to Virginia Beach only once before, on a one-day trip in 1999. I consider that trip a mistake in retrospect, since for all the driving my friend Andrea and I did, we only got a few hours on the beach before it was time to go back home. And we still didn't get home until 4 AM. But in that 1999 trip, the actual road to the beach was signed as a state highway, VA-44. As a result, this is what I was looking for on the highway:

Instead, in 2000, this is what I got:

No signs saying "OLD 44", either. Just signed as I-264. You want to know how much that number change threw me off? Look at this map from MapQuest, which I doctored up a little to show my routes: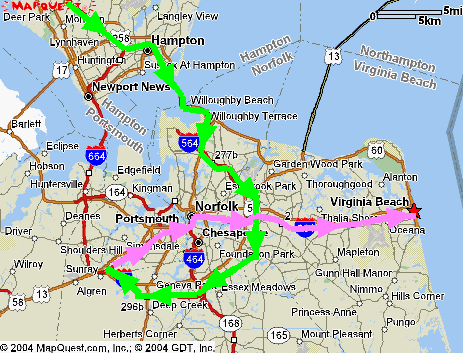 Now what we're looking at here is the Hampton Roads area in Virginia. Norfolk is in the center, and my hotel is marked with the star at the right of the image. I followed I-64 (green line) from Waynesboro all the way to its eastern terminus, WAY past where I should have gotten off. I had a feeling I had made a wrong turn somewhere when signs changed from "Va Beach" back to "Richmond" (I-64 actually loops around to the point where "eastbound" is actually going west, thus toward Richmond again). At the end of I-64, it splits between I-664 (go left) and I-264 (go right). I took I-264 since I was at right anyway, and got off as soon as possible to ask for directions. I ended up stopping at this seedy little convenience store and got pointed the right way, learning then that 44 had become I-264. So Andrea and I got back on I-264 in the direction of Norfolk and headed to Virginia Beach via Norfolk's Downtown Tunnel, effectively bypassing Norfolk. We did make it to the beach, reassured by seeing familiar sights after crossing I-64 again.
So on that map I showed you, the green line is I-64. Beyond where the pink line (I-264) crosses it is the distance I went in error. The green line, and my travel in error, ends where I-64 splits into 264 and 664. Then the pink line begins. The pink line up until it crosses the green line is what I best describe as "back-pedaling", undoing my mistakes from earlier. Then from where the pink line crosses over the green line (I-64) to the end is the correct route to the beach. Switch from green to pink in the direction of the arrows from where the lines cross, and that's how I'm going this year, since I know where I'm going this time.
I think we wasted an hour or so going the wrong way.
Still, it was an interesting experience, though I don't think I want to repeat that experience again.
But still, I plan to have fun in the sun! And in case I forget something, I have the addresses of and directions from my hotel to the three Wal-Marts in Virginia Beach. One is a Supercenter, and the other two are regular.
Still, I plan on doing some beach time, taking some time in the ocean, take some time seeing the strip, and also seeing the sunrise again, and photographing it with Big Mavica.
Otherwise, the little kiddies are going back to school in a few weeks, which makes me happy. Don't have to deal with them at Wal-Mart except in the evenings. Good. Then, even though I'm not in school anymore, I can think back on the fact that in Virginia, the first month of school is FIRE DRILL SEASON!
Seriously, it is.
In § 22.1-137 of the Code of Virginia, it reads:
In every public school there shall be a fire drill at least once every week during the first twenty school days of each school session, and more often if necessary, in order that pupils may be thoroughly practiced in such drills. During the remainder of the school session fire drills shall be held at least monthly.
First four weeks of school, first four fire drills. And note the "more often if necessary". Mrs. Georg Kidd (now Dr. Georg Kidd – congratulations, Mrs. Kidd!), the principal at Stuarts Draft Middle School my sixth grade year, actually invoked that, having a fifth fire drill during the fifth week of school. Mrs. Kidd did that because she saw the behavior of the students outside as being somewhat poor (she announced about the behavior over the PA right after). So she had another fire drill to see if it changed any. Per her PA announcement after the fifth drill, behavior was much better.
That fifth drill was also the first time we all realized that the horn in the hallway that shared a wall with our classroom (the horn was outside the room) had stopped working. The previous four fire drills that year, it worked, and when the fire alarm went off and you were in that room, you'd have thought that the world was coming to an end. That time it was quiet, hearing the less-loud horn (from our room's perspective) going off down the hall.
Later, in (I want to say) April of that year, the original Edwards horn was replaced with a Wheelock 34T, which is still there today. The horn was actually replaced in the middle of the day while we were in another part of the school. We left to go to Exploratory classes, Phys. Ed, and then lunch (one after the other), all on the other side of the building. When we left for exploratories, there was an Edwards horn outside Mrs. Koiner's room. When we got back from lunch, there was a Wheelock 34T! I noticed it mostly because while the Edwards horns were nearly perfectly flat against the wall, the Wheelock was mounted to stick out with a trim plate behind it. So it was quite noticeable. And the next time we had a fire drill after they installed the Wheelock, you would hear the new horn over the din of the other Edwards horns. Imagine this sound of the Wheelock 34T trying to be heard over the din of a bunch of Edwards horns.
Yes, September is open season for fire drills. Then Augusta County does nothing special for Fire Prevention Week in October. At least in Rogers, where Grimes Elementary was highly lax on fire drills, we did something for Fire Prevention Week.
How lax was Grimes on its fire drills? Well, according to the Arkansas Code in § 12-13-109, this is the law on fire drills:
It shall be the duty of the Director of the Department of Arkansas State Police, his or her officers, and deputies to require teachers of public and private schools and all educational institutions to have one (1) fire drill each month and to keep all doors and exits unlocked during school hours.
There you go. Now I started keeping track of these things in second grade. First grade there was too much going on, it being the first year of "regular" school (kindergarten was something totally else). Plus being in a brand new school, we had a LOT of false alarms due to malfunctions and such, making them more than I recalled. Still, once a month meant roughly nine fire drills per year, possibly ten. In second grade, we had five fire drills, so about half the requirement. September, November, December, January, March. In third grade, we had three fire drills, or about a third of the requirement. September, October, February. Fourth grade? Two fire drills that year. September and March. I know, that's something. Fifth grade was an improvement over that dismal record, having four fire drills. September, November, February, and April. Less than half.
So there you go. The kids will have fun, I'm sure.
And I'm going to have fun at the beach on the 11th and 12th. You'd better believe it…