Things we do on our off-days…
July 28, 2004, 8:37 PM
I was off yesterday and today, and it was quite an interesting time. The highlight of the days off was going to Roanoke on Tuesday afternoon and evening. I did some very minor photography, mostly night photography at Mill Mountain Park, home of the Roanoke Star. I don't know what it is, but there's just a certain draw to that location for photographing it at night. The only problem is that with the warmer months, darkness comes later, and thus I get far less time topside before they kick us out of the park at 11 PM (that's when the gates close) than I would during the winter when it gets dark at like five.
Still, I managed to get a few gems. My only major problem up at the star this time was children. Elementary-aged children running around doing child-type stuff, getting in my way, tromping around on the wooden overlook platforms, messing up more than one shot. One child actually bumped my tripod, creating a double image with some strange trails on it.
On this trip, I also realized why winter is the better time for visiting the Roanoke Star. Besides there being more dark up there at night, the leaves are gone from the trees, permitting us to see more of the area. Foliage is a big blocker, let me tell you.
And then after I was finished at the star, I went over to Hooters, where I had a meal, and also got into a conversation with Cierra, one of the Hooters girls, about the Metro in DC, MARTA in Atlanta, and other transit-type topics. Also found out that Roanoke indeed does have transit service – a bus service called Valley Metro. I will have to chase this and photograph service one of these days. It may be more difficult than I would like it to be, considering that I had never even seen buses in Roanoke before this trip. Still, we'll figure it all out in the end. May pair it up with the BT in Blacksburg.
Also, something interesting, unrelated to above. At Exit 150 on I-81, it's all built-up with services for travelers. Seriously, it's all motels and restaurants and gas stations for some distance away. One particular spot has what originally was a Howard Johnson's Restaurant and Motor Lodge. More information on this location at autoage.org. Still, though, this is what it looks like as of yesterday…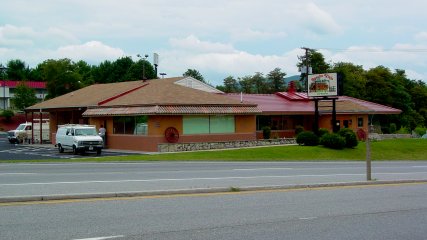 This is the restaurant, now a Mexican restaurant called Rancho Viejo, a "Mexican Grill and Cantina". Despite being added to and altered since losing the Howard Johnson's name, it still shows its HoJo-ness in the roof, now painted red, but still with the base of the cupola on top.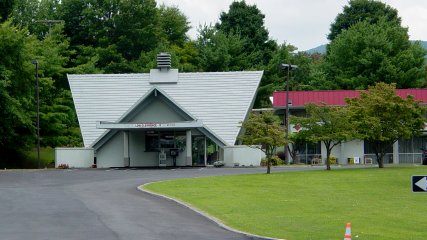 The Motor Lodge is now branded as an Econo Lodge, and as a result, the Gate Lodge's originally-orange roof was painted white. You can still tell it was designed as a Howard Johnson's, though, based on the architecture. And that recognizability goes for both the restaurant and the motor lodge, though the restaurant has been significantly altered.
Why do I bring this up? Well, last time I was through here in October, the motel across the street from the former HoJo's-turned-Econo-Lodge was a Best Western. Imagine my surprise when, this time around, I saw the place branded like so…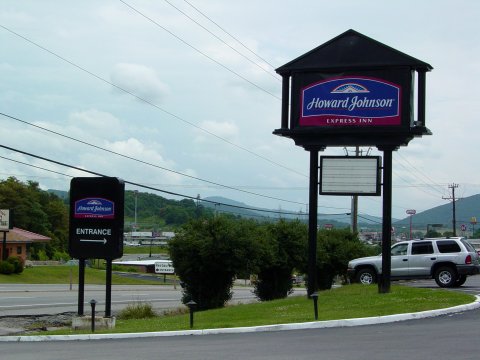 Across the street from the original Howard Johnson's Restaurant and Motor Lodge, the motel is now operating under the Howard Johnson name. How ironic. The place that looks like a Howard Johnson's isn't a Howard Johnson's anymore. Meanwhile, the location that bears the Howard Johnson name is across the street, and looks like a generic motel, probably on its umpteenth different brand. Also, note that Cendant, which owns the Howard Johnson name when used for lodging, does not include the 's on the name. Thus on their properties anymore, it's "Howard Johnson" and not "Howard Johnson's".
Still, the irony is not lost on me that the motel across the street from the former HoJo's became a Howard Johnson Inn. Weird.
Anyway, though, ta-ta for now…