Wednesday's DC trip report
July 10, 2004, 1:14 AM
I can't believe it's Friday night/Saturday morning, and I still haven't told you about my Washington DC trip from last Wednesday (July 7).
First of all, the date is significant. You may recall that some three years ago, on July 7, 2001, I did my first full Washington DC Photo Essay (that's what we called Photography back then – Photo Essays). That was the first one that was all Washington DC. We had Thanksgiving 2000 before it, but that also had a lot of Stuarts Draft in it. So what was this photo set? It was the massive photo set called "The Schumin Web Salutes America". Remember that one? If you recall, I visited a bunch of sites in Washington DC that were strongly American. After all, we were following on the coattails of the Fourth of July, and it was fitting. I visited the Library of Congress (quick pass-by from the street), the Supreme Court (went to the front doors, but didn't go in), the Capitol (partly circled the building, didn't go in), the outdoor sculpture garden at the National Gallery of Art, the National Museum of American History, the Washington Monument (inside was closed, but the grounds were open), the Lincoln Memorial, the Vietnam Memorial, and the White House (just passed by and snapped a few photos).
But that's about where the similarity ends. In 2001, July 7 was a Saturday. In 2004, it's a Wednesday. In 2001, I walked the entire length of the National Mall from the Capitol to the Lincoln Memorial, which is essentially the length of the Blue Line from Capitol South to almost Arlington Cemetery. Seriously, if I'd gone further out, going beyond the Lincoln Memorial, I'd have ended up at Arlington Cemetery station, and then Arlington National Cemetery. In 2004, I was providing support for Mom while waiting for Bill Clinton to sign her copy of "My Life", as well as railfanning the Blue and Orange Lines.
So yeah, Mom arrived at Vienna at 5:00 AM. That's obscene, but she made it to the downtown Barnes and Noble in plenty of time to get a good number. She was there for a good twelve hours. I provided food and drink, and occasionally company, both in person and by telephone.
I arrived at the Vienna station at 10:00 AM (actually 9:15, but I killed some time at a nearby Michaels craft store until about 9:45), when the guaranteed permit parking spaces opened up to regular parking. That way I could park in the North Garage at Vienna, and get up at a somewhat more reasonable hour than 2 AM. I kept in touch with Mom periodically on the way up to Vienna, finding out that she was in place and ready to go, and my relaying progress reports on the trip.
So when I got to Vienna, I loaded my SmarTrip for parking, now that Metro uses SmarTrip only for parking fees after it turned up that their parking operator was robbing Metro blind. Then I bought my all-day pass, and headed to Rosslyn, where I made a pit stop. I contacted Mom first, to let her know I was there. She wanted something diet, and so I bought her a Diet Pepsi at the Rite-Aid at Rosslyn Center, and an Aquafina for me. Then it was back to the train for me, down the escalator that doesn't groan like it used to (this groaning was documented on May 29 – see my Transit Center site for more details). I Metro-ed over to Metro Center on a Rohr train, and met up with Mom outside Barnes and Noble, where she had gotten her number and had her armband, and was waiting in line. This is Mom when I met up with her: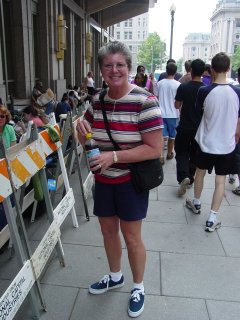 And in her hand is the soda I got her.
Mom's waiting spot was actually right near the Old Post Office, which was neat to see. And as such, she was less than a block away from Federal Triangle station. So we talked for a while, and she told me about her experience so far and I told her about my plans. We then parted company, and I ducked into Federal Triangle station, and headed east.
I first railfanned all the way out to Addison Road. The way I do railfanning is that I tour stations going one direction, then I sit in the front car going the other direction at the railfan window. Going to Addison Road, I stopped to tour Federal Center SW, Eastern Market, Potomac Avenue, Benning Road, and Capitol Heights. At Addison Road, I stopped for a pit stop at a nearby gas station, and then hopped on a Rohr train back to Stadium-Armory. For my train operator, I actually got the same train operator that I had on Breda 2075 on January 17. This was that first rehab trip. This video is part of that past trip. Same train operator, but now she's on the Blue Line instead of Yellow. And I was already at the railfan window when she arrived at the train. Turns out she remembered me, we said hello again, and I gave her the address to my Transit Center site, which was under construction when we last spoke in January. We discussed briefly about how she's now on Blue, and then we were off. I got off at Stadium-Armory, and then transferred to the Orange Line where I headed out to New Carrollton.
At Cheverly, on the way to New Carrollton, I saw a strange sight. Can anyone tell me what's wrong with this picture?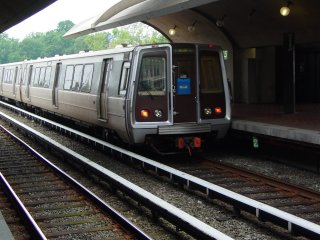 Answer is, it's a Blue Line train to Franconia-Springfield (FRANC-SPRINGD per the side displays), signed on the door and flip-dot signs, and announced as Blue, at Cheverly station. This is "wrong" because Cheverly is an Orange Line station, and normally only Orange Line. No Blue. I spoke with the station manager at Landover about it, and she called Central Control to find out. Turns out that this train was a put-in from New Carrollton, and was on its way to join up with the Blue Line in preparation for rush hour. Only one in the system doing this, and I got a photo of it. Actually three. One movie, a photo of the side display, and the aforementioned photo. Score one for the railfan.
After arriving at New Carrollton, I took a few minutes' break outside at the base of the large clock outside the station, and actually struck up a conversation with a girl who was also there. Started out as a conversation about her phone (we had the same kind of cell phone), and about what kind of games we had for our phones, with my showing her my Ms. Pac Man on my phone (I swear by my Ms. Pac Man!), that I downloaded a while back. We then talked about Mobile IM. I asked if she had a separate screen name for her phone, or used her regular screen name. She said she used her regular name. I told her about how I use Schumin Wireless on the phone and SchuminWeb on the computer, and had she ever heard of my Web site, The Schumin Web. Turns out, she had seen my Web site, and was at least somewhat of a fan, as she did visit fairly regularly. Wow!
After that, I went back into the New Carrollton Amtrak station (right next to the Metro station, and actually in the same building), where I bought a soda and took a break. While I was sitting in the station, the sky darkened, the wind picked up, the rain came pouring down, and the thunder and lightning came roaring in. Seems that I was in the best possible place to get caught in a thunderstorm, too, as it was a covered, completely enclosed stationary space, which is better than being in an above-ground Metro station (as all the eastern Orange Line stations are), since those aren't fully enclosed.
Anyway, though, it seemed to be a repeat of that big storm at Wal-Mart the week before, except this time I had a view of the outside. But the lightning was fierce, and the wind was pretty good, and the thunder was loud. Only thing missing was the hail that we had at Wal-Mart. The storm even knocked out the power at the Amtrak station at New Carrollton, putting the station on its emergency generators.
You want to see this fierce storm? I made some movies…
As you can see, it was more fun than a barrel of Vikings. Actually heard that phrase way back in 1991, when Pat Sajak on Wheel of Fortune made the comment that one person actually one time guessed, "More Fun Than A Barrel of Vikings" instead of the (correct) phrase "More Fun Than A Barrel of Monkeys".
But from there, I went to L'Enfant Plaza, where I caught a Green Line train (CAF!) and headed up to Gallery Place-Chinatown, where I intended to catch Red back to Metro Center to meet Mom, or at least be nearby. On the Shady Grove platform at Gallery Place, I heard from Mom.
Mom: "Where are you?"
Me: "Shady Grove platform at Gallery Place."
Mom: I have no idea what that is.
Me: Yeah, you do. This is the Chinatown station. We've been there before.
Mom: Well, anyway, how close to Barnes and Noble are you?
It boiled down to the fact that I was very close, and for Mom to stay where she is, and I would find her. I met Mom outside the Hard Rock Café, where we had dinner. Good dinner, indeed.
After that, Mom and I took Metro from Federal Triangle through the Eye Street tunnel to Rosslyn. There, I got off the train to take a moment (by then the storm had cleared), and Mom headed to Vienna. I did get one last shot of Mom on the train as I was leaving: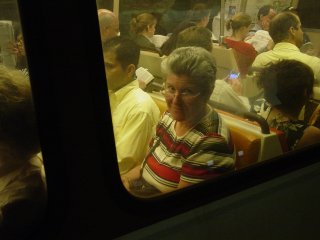 And then when next we saw each other, we were at home.
After Rosslyn, I took the Eye Street tunnel again to Metro Center to Gallery Place to Pentagon City. I admit it wasn't the most direct route (which would have been Rosslyn to Pentagon City via Arlington Cemetery), but I was trying to get a ride on all five lines and ride all four different major car types, and had at that point ridden Rohrs, Bredas, and CAFs (and saw a six-car train containing two of each car at Rosslyn!), and had ridden the Blue, Orange, Red, and Green Lines. All I was missing was Yellow Line, riding the Breda rehabs. I went back to Gallery Place, where I caught a rehab down to Pentagon City. Turned out to be a consist with two of the cars being regular Bredas. But anyway…
At Pentagon City, I got a water massage (ahhhh!), and then did a little walking around. It was fun. Afterwards, went to my special place at Rosslyn, and I contacted my friend Jackson from JMU, who's spending the summer in DC with Patrick (also from JMU!). Turns out that they had been at the book signing, too, which meant that we couldn't meet up that evening, since they were that tired. A pity, but there's always a next time. If I had known they were going to be at the signing, I would have gotten in a visit with both of them as well as Mom.
On the lower level of Rosslyn, a fluorescent bulb exploded behind the platform. That was weird, to say the least. Look…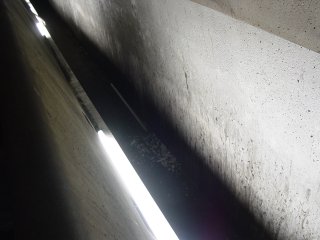 Then I just railfanned back to Vienna, and then drove on home. Next trip will likely be July 21 or so.
And then on August 11-12… vacation at Virginia Beach! Yaaaaaaaaay…