I found out today that the parents are remodeling…
July 9, 2004, 10:16 PM
Yeah, I just today found out that my parents are doing some fairly significant work on the house soon. Before today, all I knew was that we were getting a new back porch at the beginning of August.
The back porch currently is an open wooden deck, original to the house when it was built in 1992. Now, the old deck is being demolished, and being replaced with a full screened-in porch. It will be bigger than the old one, roofed over, and screened in, essentially creating an extra indoor/outdoor room, complete with two ceiling fans. Again, I knew about the deck already, and have seen drawings of the new deck as it will look when it's finished.
Now I didn't know that plans were also set to replace most of the flooring downstairs as well as up the stairs and in the upstairs hall. Currently, the living room, family room, dining room, the stairs, and the upstairs hallway have beige-colored carpeting, which is original to the house (almost 12 years old). The living room will be carpeted in some shade of blue (not sure what specific shade yet, but we're getting there – actually, Mom's getting there, since she's making the final decision, but you get the point). The family room, dining room, stairs, and upstairs hallway will all be hardwood. The dining room and family room will get an area rug "later".
The remainder of the rooms, consisting of the kitchen, all two and a half bathrooms, all three bedrooms, and the downstairs hallway, are not changing. The kitchen is ceramic tile, the downstairs hallway is already hardwood (and we're matching the new floors to it), and the bathrooms and bedrooms aren't getting changed right now.
All I have to say is that it's going to be wild around here, with both projects likely going on at once. The deck replacement is going to be fairly simple, with just demolishing the old deck and building the new one, only requiring removal of the grill and such (which will be reinstalled).
Inside, we're going to have to completely move out of three rooms and then move back into them. Fun, indeed. But it's supposed to look really good when it's all finished. Still, I'll be glad when our surround sound system in the family room is disconnected, since I am the one person in the house who HATES that system with a passion. Mind you, my room is right above the family room and as such I can tell when it's being used. I can hear the sound, and feel the subwoofer. It's really annoying, especially when I'm trying to sleep, or trying to concentrate. You do not know how happy I would be if that system went away. Me, I don't need 3D sound to have a good time.
Now the person I feel sorry for is Greta. Let me remind you, this is Greta: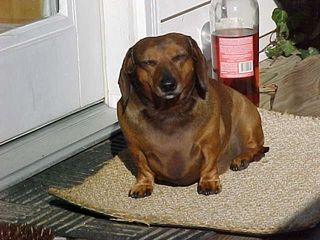 Reason we feel sorry for Greta is that first of all, we're putting her up in the kennel during the time that both projects are going on (about a week). This is at Cedarcrest, which is also the vet's office we take Greta to. Sure, they call it a "pet resort" complete with "tuck-in service" (and we don't doubt that they do actually provide such a service for Greta and their other guests), but still, Greta loves us and we love Greta. She really didn't weather one particular vacation well some years back, coming down with a major case of diarrhea. Then when Greta gets back, she will be greeted to a remodeled house, since a lot of floor will be all different. May I remind you that Greta, being a short little dachshund, spends more time very close to the floor than any of the rest of us. A traumatic experience for a dachshund.
But with the backyard out of commission as well as having to rearrange the downstairs on an almost-daily basis, it's probably better for Greta that way, since we won't have to put her in Mom and Dad's room for any time (she likes to sleep in there anyway), or take her elsewhere (like on a walk) for her to use the restroom. Plus that way, she won't be underfoot while things are moving around. Still, I feel sorry for Greta, who's just so cute and adorable.
Still, there you go.