Funk the Weekend
Part 3
Good morning!  I was up and at 'em for a third day of demonstrations, though this third one was on a different topic: immigration.  This was the March for America – a pro-immigration march, focusing on comprehensive immigration reform.  Let's admit it – the current immigration system is broken, and badly needs to be reformed.  Our country is a nation of immigrants, and people coming to the United States in search of a better life is what our country was built upon.  They have come from Europe and Asia, and now many come from Latin America.  I believe that no person is illegal, and the United States should offer all immigrants a path to citizenship, a way to allow everyone some ownership in their adopted country, no matter how they get here.
SDS was getting together once again, this time in a "Funk Borders Bloc", which was announced on Facebook ahead of time.  Let's admit – as corporate as Facebook might be, it certainly is a valuable tool for organizing.  The Funk Borders Bloc would meet at 1:00 PM at Camp Out Now, an anti-war encampment established by Cindy Sheehan on the National Mall at roughly 15th Street and Constitution Avenue NW.
The Funk Borders Bloc was described as such:
Join Funk the War and DC Anti-imperialist friends to march in style at the March 21 March for Immigrant Families. Meet-up 1pm @ Camp OUT NOW! on the North lawn of the Washington Monument (15th St NW & Constitution Ave). Nearby metro stations are Smithsonian and Metro Center.
SATURDAY March 20, 7pm after the free Food Not Bombs dinner at Camp OUT NOW! join the crew to make signs and props for the next day.
the FUNK BORDERS BLOC…
is a radical dance-driven mob including the DC Funk the War Organizing Project (students and youth from across the DC-area), DCSDS, and friends.
No More Borders!
Borders are a tool of the modern corporate capitalist state that prevent the free movement of normal people, containing us for exploitation and separating families, whilst allowing the free movement of the corporate citizens who are wrecking our planet.
the ROOT CAUSES BLOC…
is an assembly of folks organizing against corporate imperialism, the root cause of the war, labor, and environmental refugee crises that force people to leave their homes for survival.
So I got going at around 10:30 or so, and caught Rohr 1150 from Glenmont to Metro Center.  I had to go down through the lower level to get to the exit I needed to use (12th and F), and so I figured if a Blue Line train to Largo or an Orange Line train to New Carrollton was coming, I'd take that to Federal Triangle and save some of the walking.  And as luck would have it, an Orange Line train came in as I was going down the escalator, and so I hopped on Breda 3021 for the short ride to Federal Triangle.
Coming out of Federal Triangle, I went into the Reagan Building in search of a restroom.  Going through their airport-style security checkpoint, the person working the x-ray scanner found something interesting in my bag.  They asked me, "Do you have batteries?"  I turned the bag over and pointed to them.  When I use the backpack, you see, I keep the camera's batteries in a mesh pocket on the front for ease of access.  Once that was cleared up, I got directions to the men's room that I was looking for.
Leaving the men's room, I knew I needed to go out a different way than I came in because of where I was going.  Why go out and then around the building when you can just go through it, after all?  Seemed to make sense to me.  Of course, coming out of the men's room, I found myself a bit disoriented in the building's maze of corridors.  I ended up having to get help from a security guard at a different checkpoint to find my way out of the building via its west side.
Once out of the Reagan Building, I quickly located Camp Out Now, and spotted a few SDS-ers.  I was early, and so there was plenty of time to kind of hang out for a bit.  As other SDS-ers arrived, much of the discussion was about the effort to be out of St. Stephen's Church, where many of the Rochester folks stayed while in DC, by the 8:00 deadline imposed by the church.  St. Stephen's is awesome for housing so many left-wing groups and offering meeting space, but they still need their space back on Sunday morning so that they can have church.
One of the things that the group did early on was help the Camp Out Now folks dismantle the Iraq Memorial to Life, a display of markers for Iraqis killed as a result of the Iraq War.  When a few folks questioned why the display needed to come down, the Camp Out Now folks explained that the whole display was going to Ohio that night, and so it needed to be taken down in Washington in order to be prepared for transportation.  And so the SDS-ers helped remove the markers, placing them all into piles.
---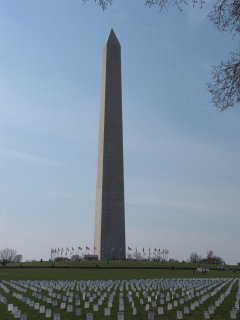 The Iraq Memorial to Life, at the foot of the Washington Monument.
---
---
SDS helps dismantle the Iraq Memorial for Life display.
---
Camp Out Now, where we hung out until the equipment arrived, and the March for America began.
---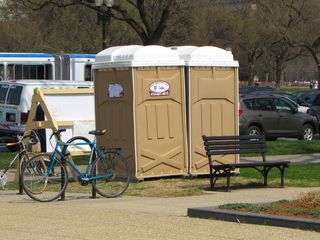 The world's nastiest port-a-potties, having gone a wee bit too long between servicings.  Thank goodness that men don't actually have to touch any of the hardware to use the facilities.
---
After this, and a bit more hanging around, the sound system showed up, as did signs and signmaking materials.  The signs were left over from Funk the War two days before, and, in fact, had "Funk The War" and "War is Bad Romance" written along the lower edge.
---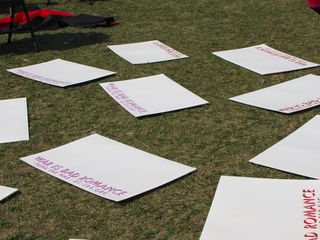 The signs have arrived!
---
Putting messages on the Funk the War signs.
---
Making our large out-in-front banner.  Translated, the banner reads, "Without borders, without states, we are free."
---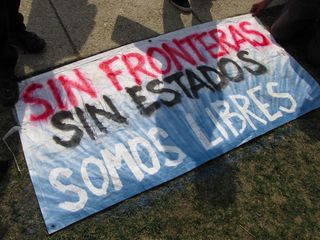 The banner is complete!
---
More of the signs we created.
---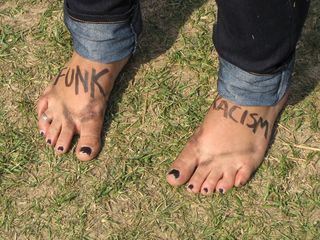 One participant decorated her feet with the words "FUNK RACISM".
---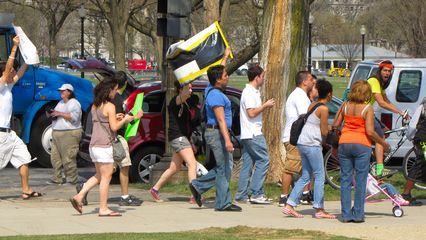 Other groups head to the site of the March for America, while SDS looks on.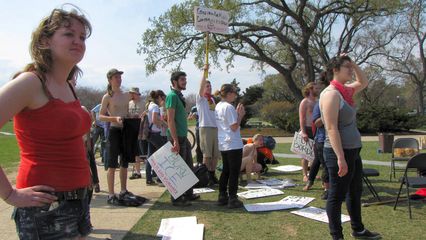 ---
Before we left, I got Amber to pose for some photos with a flower.  They didn't turn out all that well, but they were fun to do.
---
After the signmaking session, we were at last on our way.  The sound system was on, the big banner was out, and we headed east, towards the Capitol.  We kept to the sidewalks, and followed Constitution Avenue to 12th Street NW.  There, we turned south, and followed a sidewalk going between the Smithsonian's Museum of American History and the Museum of Natural History.
---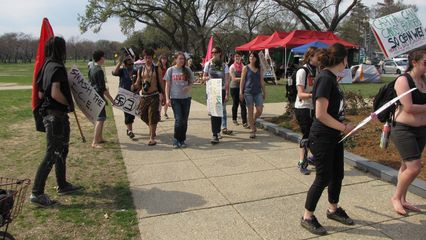 At last, we are underway!
---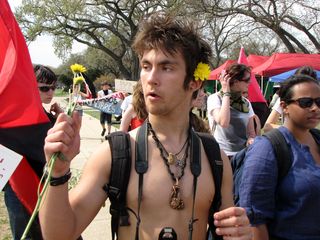 I shot this photo as we were leaving Camp Out Now, and in looking at it, I thought it kind of resembled a modern version of the 1960s-era "flower child".
---
Cutting holes in our banner to allow the wind to pass through.  This makes the banner far easier to handle, since it gives the wind a way to get past without putting as much pressure on the banner, making it harder for it to blow away.
---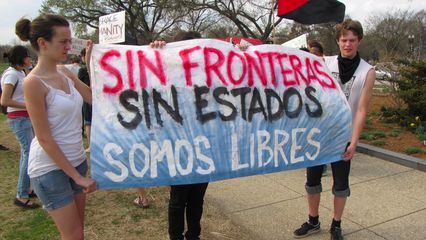 And now we're ready to go!
---
Marching out to join the main group.
---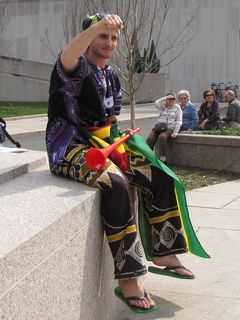 Show of support from a bystander outside the Museum of American History.
---
---
---
Arriving on Madison Drive NW, were in with the main group.  This is where I got the surprise of the day.  I had no idea going in that this was going to be a large, national march.  The National Mall was packed with people of all different ages, colors, and nationalities, and the mood was very upbeat.  This was a happy crowd, demonstrating in favor of immigration reform.  I've said in the past that "pro" marches are often more fun than "anti" marches, and this was no exception.  Everyone was just in a really good mood, and it showed.
I will confess – I didn't do much research on this march ahead of time.  I spent more effort staying on top of the two anti-war marches than I did with the March for America.  Thus I had assumed that this was going to be a smaller, locally-oriented event.  You know what happens when you assume, and this was no exception.  I was totally blown away by the size of this march, and felt a bit overwhelmed at first.
---
Joining the main march group on Madison Drive NW.
---
Marching on Madison Drive NW.
---
"Blacks, Latinos, Arabs, Asians, and whites!  No racist war, no more, no more, defend our civil rights!"
---
Our group eventually set up station on Madison Drive NW in front of the Natural History Museum.  As nothing was really moving at the time, we ended up having a mobile dance party, only pausing to clear the way for vehicles and police horses.
---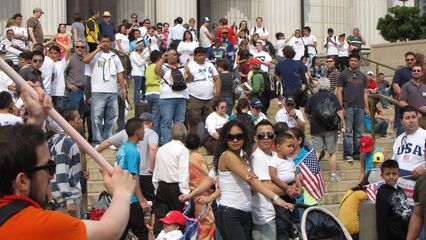 Crowds of people on the steps of the Natural History Museum.
---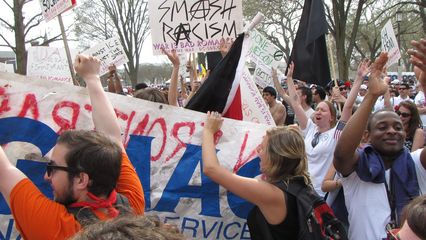 Dance party!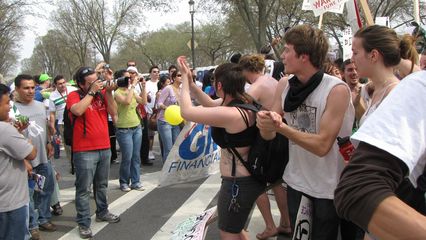 ---
---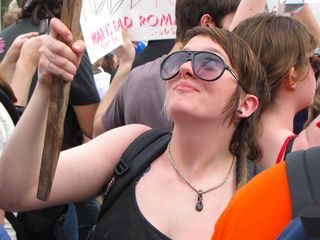 ---
---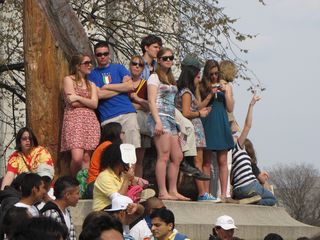 Bystanders watching from the sidelines, in this case, a ledge on the Natural History Museum.
---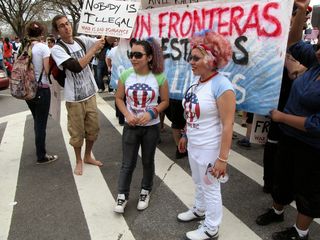 Some people posed with our banner.
---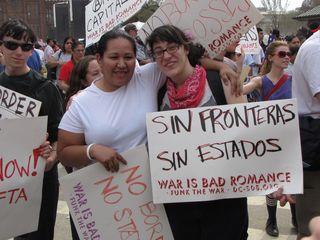 Rachel poses for a photo with another demonstrator.
---
---
Plenty of photographers took pictures of our mobile dance party.
---
---
Various vehicles that needed to pass through the area.
---
Police horses…
---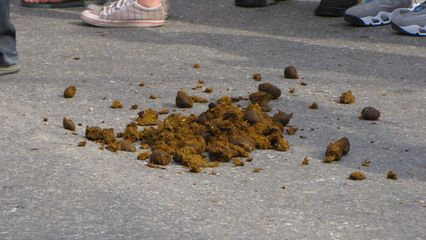 …and their massive droppings.  Yuck.
---
The police horses were a point of contention between the Park Police and SDS.  The Park Police, on horses, sent the horses through the crowd periodically to ensure a clear way for vehicles.  However, the horses got too close to activists for comfort.  First of all, if the police horses are so close that you can feel and smell the horse's breath, then they are too close.  Additionally, the way the horses were walking, I was afraid one of the horses might fall over and injure demonstrators, as well as cause injury to the horse.  Eventually, someone spoke with Park Police about the horses, and an agreement was reached that the horses wouldn't come back as long as we got out of the way for vehicles.  And that was the end of the horses.
Eventually, things started moving.  We mostly stayed on Madison Drive, marching east towards the Capitol.  Our Funk Borders mobile dance party was right behind a group with musical instruments.  We did not want to either compete with the instruments or accidentally drown them out, so we attempted to maintain a buffer between our two groups.  This wasn't always successful, as the march was kind of stop-and-go, and we didn't always realize the march was stopping until we had compromised our buffer.  But somehow, we managed.  I ended up in front, helping to carry the banner.  Since a lot of what I do at political marches is photography, this ended up being a bit of a problem.  After all, I need mobility and a free hand or two to work the camera.  I managed to end up on the right end of the banner so that my right hand was free to work the camera, but I wasn't able to hand the banner off to someone else for a while.
---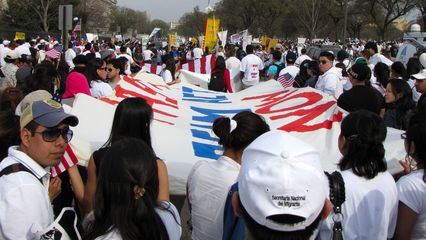 ---
---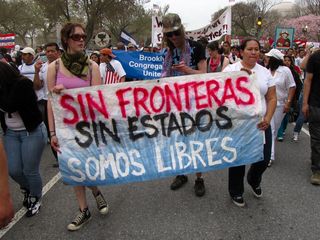 ---
---
We got out of the street and onto the Mall itself around 7th Street.  We continued our march, taking great care to lift the wagon carrying the sound system over curbs, until we reached 3rd Street NW.  After crossing 3rd Street NW, at the beginning of the Capitol grounds, we determined that we had made it, and parked it.  A bunch of us sat down in the grass at this location.  This wasn't a sit-in, like it was for Funk the War on Friday.  We had made it, and continued our radical dance party in place.  Those who were sitting down, including myself, were tired, and were sitting down because we had been marching in various demonstrations for three days.
---
Dancing on the Capitol grounds just east of 3rd Street NW.
---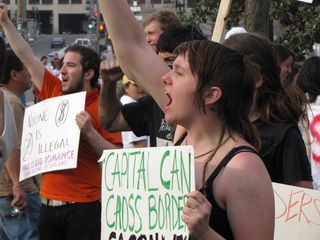 ---
---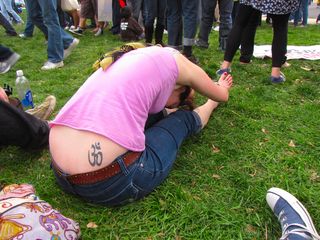 Some people took the time to just stop and relax.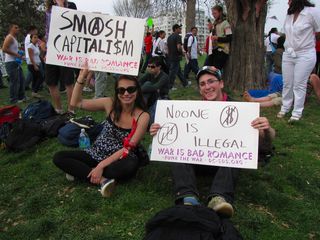 ---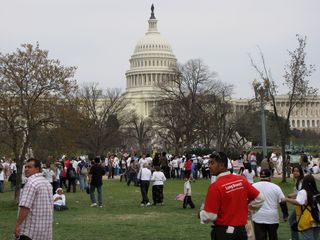 All the while, people continued streaming past us onto the Capitol grounds.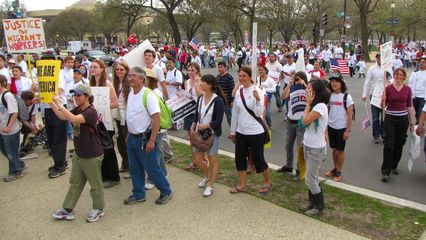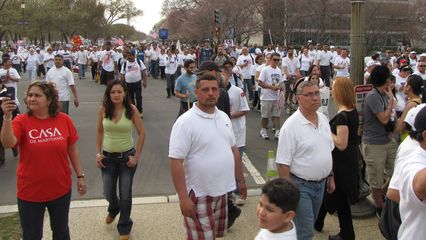 ---
---
However, the Capitol Police were none too happy that we were on their grounds and having a good time.  Two Capitol Police officers showed up – R. Schauf, on foot, and D. Gallo on a motorcycle.  Gallo handed Schauf two large, red cans: pepper spray, with the safety pins out.  Were we about to be pepper sprayed?  It was a distinct possibility, and a number of SDS-ers took some precautionary measures, putting on bandannas and backing up.  Schauf eventually put the pepper spray away, but this definitely shows something fundamentally wrong with how the Capitol Police handles left-wing demonstrators.  I remember during the September 15, 2007 anti-war protest, The Washington Post reported that the Capitol Police used a chemical spray on demonstrators engaged in a die-in on the Capitol grounds.  Likewise, during the counter-protest against the neo-Nazis, at least one Capitol Police officer in riot gear prominently displayed his red can of pepper spray.
I have the feeling that the Capitol Police's modus operandi in practice on the use of pepper spray is, when I'm tired of having you around, I'm going to spray you with this vile chemical agent to make you go away.  The Capitol Police is more than welcome to prove me wrong by demonstrating otherwise in practice, but that's the vibe they're giving off.  Honestly, pepper spray should only be used in extreme cases, when all other methods have failed.  If Officer Schauf felt threatened by us, he could have easily approached us and asked us what we were up to, or asked another officer to do so.  We don't bite.  Really.  All could have come to an understanding if Officer Schauf had just spoken to us.  After all, we were dancing and relaxing, and that was basically it.  But instead, he created a hostile situation, with the help of Officer Gallo, by pulling out cans of pepper spray with the safety pin out, and thus ready to use.  Jackasses.
---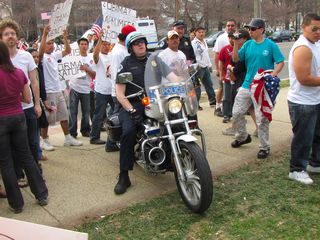 Officer Gallo arrives on a motorcycle, with cans of pepper spray on board.
---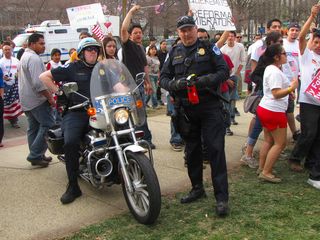 Officer Schauf handles the cans of pepper spray, which in themselves created a hostile situation.
---
Meanwhile, I learned a lot about how I react to the threat of pepper spray in a real situation.  Yeah, I've thought about it on a number of occasions, and when I go to political demonstrations, I always carry a half-face respirator mask in my bag for these kinds of situations.  Now in this case, rather than reaching for any protective equipment, I reached for my camera, and started shooting photos.  Something tells me that I'm going to need to start wearing the respirator down around my neck for demonstrations that are expected to enter into the Capitol Police's jurisdiction, as they have proven that they are more likely to spray first and ask questions later than to be civil about things.
However, in photographing, I did glean some valuable information off the pepper spray cans themselves.
---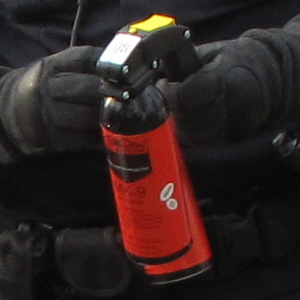 Detail of the cans from the previous photo.  Note that the safety pin is missing on at least one can (i.e. it was ready to fire), and note that "MK-9" and a brand logo is readable on the can.
---
I was able to determine that the pepper spray was Defense Technologies' MK-9 pepper spray.  They offer it at various concentrations, and various distribution methods, such as foam, a conical spray, and a stream.  I was unable to tell from the photo what the concentration was, nor whether this was foam, the conical spray, or a stream.  However, a little further research led me to the product's Material Safety Data Sheet (MSDS), which explains a lot about just what kind of vile chemical this is.
---
The MSDS for the pepper spray.  Click the pages for a PDF of the full MSDS.
---
I encourage any activist who expects to go to a DC-area demonstration that will potentially go into the Capitol Police's jurisdiction (which begins at 3rd Street NW/SW) to read this, because to put it bluntly, those bastards can't be trusted.
After the pepper scare, though, the dancing continued.
---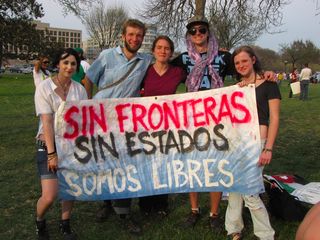 Posing for a final photo with the banner.
---
Eventually, the Rochester folks had to call it a day, in order to head back to their cars to go back to Rochester in order to arrive back home at a reasonable hour.  It was already approaching 5:00 or so, and with it being roughly seven hours' driving time back to Rochester, the best-case scenario would get them back to Rochester around midnight.  So we all said our goodbyes, exchanged contact information, and got our hugs.  At the same time, the rest of us decided to also call it a day – and a weekend.  After saying my goodbyes and getting my hugs, I also called it a day, and headed out.
---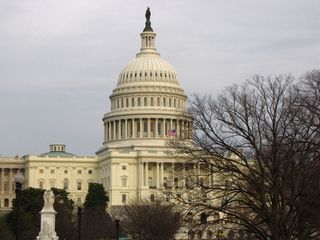 The Capitol dome in the early evening light as I prepared to head out.
---
From where I was, the nearest Metro was Union Station.  Union Station also had the added benefit of food and drink facilities nearby.  I ended up going to a smoothie place down in the basement of Union Station in order to cool off and relax.  Three days of demonstrations will certainly tire a person out.
After finishing the smoothie, I headed down into the Metro station, and caught a Red Line train to Glenmont.
---
---
Catching a seat on Rohr 1279, I felt a tremendous feeling of accomplishment, and also felt remarkably tired.  After all, I'd been busy over the course of a three-day weekend.  I participated in three different protest marches for two different causes, and had lots of great times with other radical activists from all over the east coast.  The memories will last a lifetime, and hopefully this will be a step towards getting policymakers to do the right thing.
Part 3