Funk the Weekend
Part 2
Saturday morning, I was up at 7:00 and on my way in no time, ready for ANSWER's anti-war march, meeting up at noon at Lafayette Park.  My plan was to arrive on scene at 11:30, since some of the Funk the War folks from the day before were planning to meet in front of the Teaism restaurant on Connecticut Avenue at 11:30, just slightly northwest of Lafayette Park, as announced on Facebook.  I caught Rohr 1073 from Glenmont, and rode into Farragut North station.
It's still funny the way my body reacts ahead of protest marches.  I always get a strange feeling in my stomach ahead of these things, most notably ahead of the September 24, 2005 protest.  This was no exception, and I got that funny feeling while riding the Metro going in.  The feeling always evaporates once I get there and things start to get going.  I attribute it to nervousness, and it only happens ahead of political demonstrations.  It doesn't happen for Anon raids, which have become somewhat routine.
Arriving at Farragut North, I headed to the Teaism location, and found no one there.  No problem, since I had a backup plan.  If I found nothing at Teaism, I was just going to go into Lafayette Park.  I went into Lafayette Park, and after passing through the gauntlet of people handing out flyers for various socialist organizations (fairly typical of ANSWER marches), I spotted a group of people near the middle of the park with red-and-black flags.  I think I just found my group.  Turns out that this was a group of SDS-ers, primarily those from Rochester.  The amount of masks in the group was even less than what we had at Funk the War, with many of those who went masked at Funk the War going unmasked at the ANSWER march.
---
The ANSWER demonstration, gathered at Lafayette Park.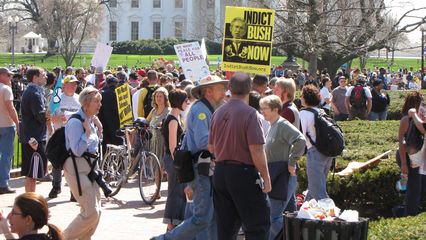 ---
I also ran into Maggie, whom I first met at Funk the War 8.  Maggie's sister Kate was also in attendance, and the three of us got into a conversation for a while, even playing with Maggie's bandanna for a minute, and getting a silly photo out of it.  When we heard one of the ANSWER speakers say, "The people, united, will never be defeated," Kate came right back with a comment about that, saying, "The slogan, exhausted, to never be repeated."
---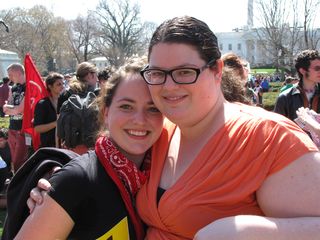 Maggie and Kate.
---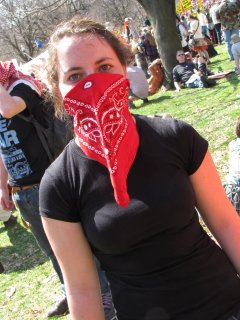 Playing with Maggie's bandanna resulted in this photo.
---
After a while, the SDS group headed northwest, out of the park, to a spot on the east side of the 800 block of Connecticut Avenue NW, in front of the United States Chamber of Commerce, where the breakup letter was read the day before.  This was to make the meeting where I had previously found no one.  We stood and chatted for a bit, and then, finding no additional SDS-ers, realized that we were the SDS group for this march.  So we headed back into the park, returning to a place near our original spot.
Now, having returned to the park, we had a discussion to decide what to do.  A number of options were presented.  Did we want to join the ANSWER march and march with them to the end?  Did we want to join ANSWER for part of their march and then break off and go independently from there?  Did we want to do an entirely separate march from the ANSWER folks?  We also had reports of a Tea Party event at the Capitol.  Did we want to troll them?  If we trolled the teabaggers, how would we get there?  March or Metro?  We also wanted to lend support to a surround-the-White-House event with Cindy Sheehan.  Lots of decisions to be made.
Whenever SDS discusses, the format usually involves a moderator, whose main job is to determine the order of the discussion.  Basically, people raise their hands, and the moderator goes, "You, you, you, and then you," and each person then adds to the discussion.  Eventually, we came to the decision that we would march with the ANSWER folks for a while, and then break away and march separately towards the White House, to join up with Cindy Sheehan's event.  We also agreed that our independent march would stay on the sidewalk, and that we would not attempt to take the street.
Of course, in order to put our plan into effect, we had to wait on ANSWER's march to get going.  Which meant that ANSWER's speakers had to finish blathering on, preaching to the choir, so to speak.
Eventually, though, we did get moving.  The march started out heading west on Pennsylvania Avenue, making a right turn at the World Bank.  Of course, this being ANSWER, the march certainly was in no hurry to get anywhere.  After all, ANSWER's marches are characterized by walking about five feet, and then waiting for five minutes (I'm exaggerating a bit, but you get the idea).
---
SDS joins the ANSWER march… for a while, at least.
---
---
The ANSWER march is underway, with SDS right in the thick of it.
---
---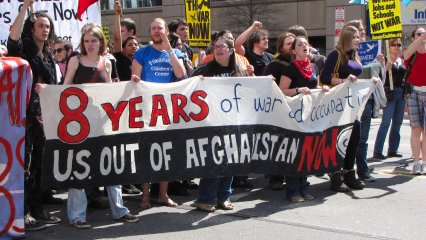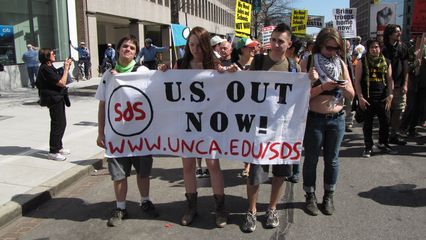 ---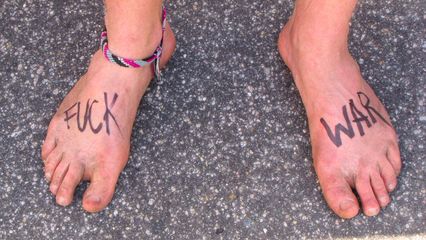 A simple, if slightly uncouth, anti-war message written on a pair of feet.
---
As the march neared the World Bank, the chant changed to, "World Bank, shut it down, IMF, get out of our town!"
---
---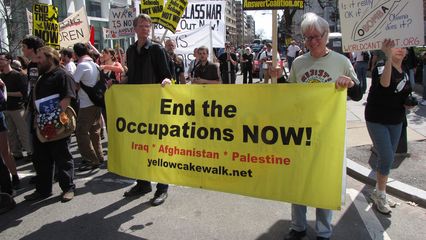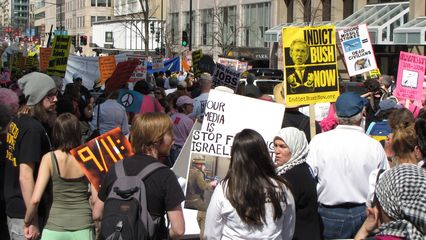 ---
"Hey, hey, USA, how many kids did you kill today?"
---
At 18th and L Streets NW, we broke off.  While the ANSWER march continued in a northbound direction, we turned east on L Street.  Our new route took us east on L Street, and then south on Connecticut Avenue, past Farragut Square, and on to Lafayette Park and the White House.  The police were quite strict about our staying on the sidewalk.  I put one foot out into the street to line up a shot (with the other still on the sidewalk), and a police officer immediately told me to get back on the sidewalk.  Yikes…
---
The SDS group, now independent from the ANSWER march, is on its way!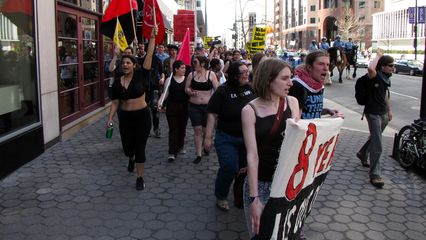 ---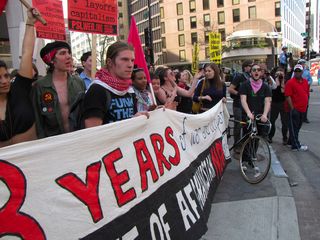 At the intersection of 17th and L, waiting for the light to change.
---
"Stop the war, yes, we can, US out of Afghanistan!"
---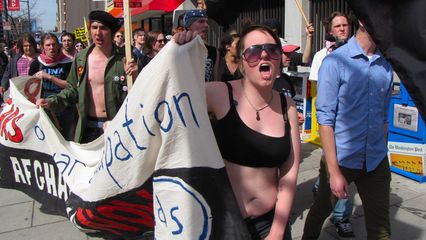 Passing Farragut Square, and then on to the White House…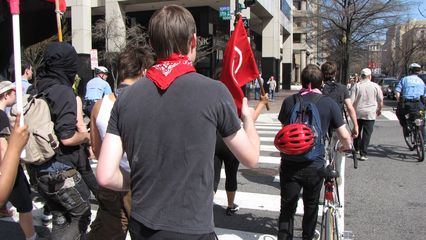 ---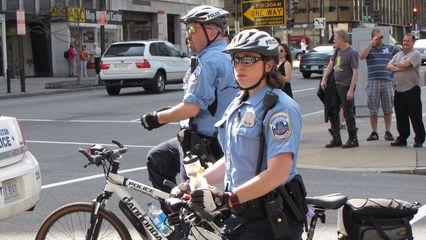 Cops were doing their darndest to keep us on the sidewalk and out of traffic.
---
Returning to Lafayette Park.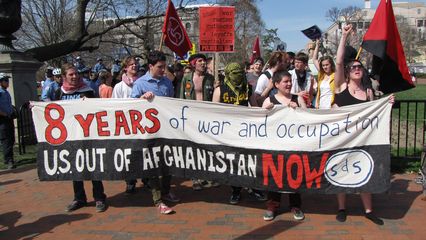 ---
We marched towards the center of Lafayette Park, and kind of went into a holding pattern from there.  It was fairly quiet in Lafayette Park after the ANSWER crowd left, and so we took center stage in the park, with our banner facing the White House, shouting various chants.
---
"Money for jobs and education, not for war and occupation!"
---
Demonstrating in front of the White House.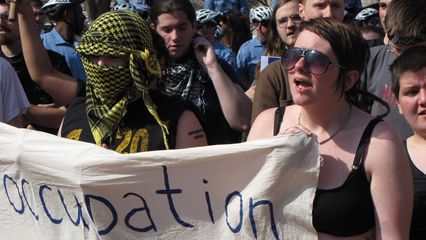 ---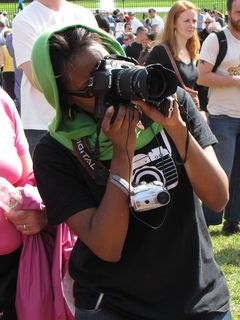 As Lafayette Park started to fill up, we quickly became the center of attention!
---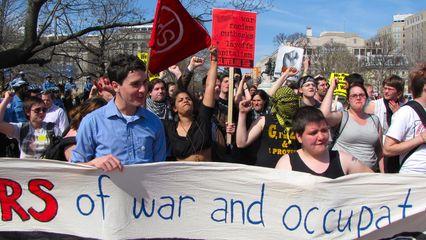 ---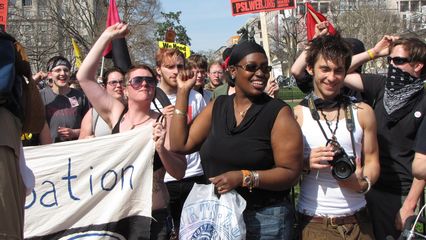 Much to our surprise and delight, a woman who was out shopping nearby came by our banner, and briefly joined us!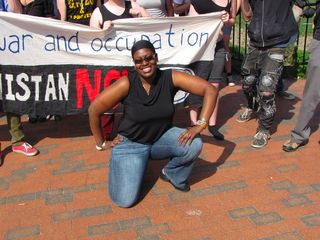 ---
"Obama, you prick!  You lied to us, you dick!"
---
Later, we kind of chilled out for a bit, and I got some photos of Maggie making various expressions: Smile, sad, and neutral.
---
We continued to chill out for a bit until someone spotted the ANSWER march coming by.  A few people sensed a golden opportunity, and so we were off to meet the ANSWER people.  We met the march at the intersection of H Street and Vermont Avenue NW.  There, we got in front of the lead position of the march, while a woman with ANSWER "security" kept telling us to get behind their lines "for [our] own safety," before later shouting "F— YOU!" at us.
---
On the way to meet the ANSWER march…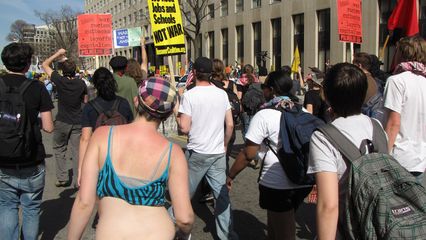 ---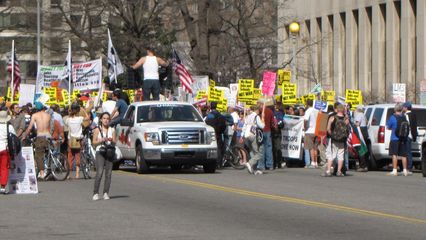 ANSWER march, dead ahead.
---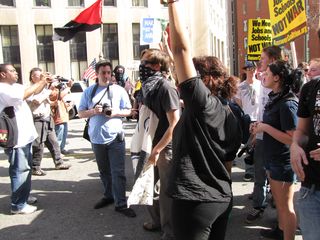 Greeting the march, and preparing for a polite hijacking of the march.  Seriously, we just got out in front and started acting like we were leading, and the people followed us.
---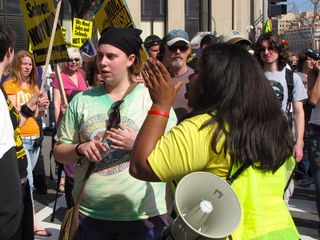 ANSWER "security" volunteer upset with us that we hijacked her march.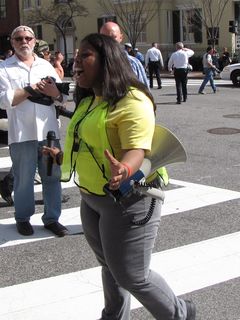 ---
And our golden opportunity was met with success – as I described in a Journal entry written right after the march, we hijacked ANSWER's march, bringing much of the crowd back into Lafayette Park to join Cindy Sheehan's event, rather than heading to Halliburton's Washington offices as ANSWER had planned, essentially ending ANSWER's march.  Cindy Sheehan's event was far more worthwhile than anything ANSWER could come up with over at Halliburton, plus this was a very blatant thumbing of one's nose at ANSWER, for whom many of us have little to respect.
I believe that the lack of respect for ANSWER comes from both the way they run their marches, and some of their affiliations.  I said this of them in the Journal:
ANSWER's demonstrations usually consist of an initial rally (at the White House in this case), hours of speeches, and then a stop-and-go march, usually following one of two patterns.  One pattern takes a circuitous route around DC, ending back at the origin site.  The other pattern takes marchers from Point A to Point B, usually going from one key location to another key location in a fairly direct manner.  Of course, there are variations in each, with some circuitous marches ending in a different location, and some Point-A-to-Point-B marches taking a somewhat circuitous route.  The September 24, 2005 march followed this former pattern, and then the March on Crystal City followed the latter pattern.  Note, however, in both of these cases, I participated in a radical feeder march before joining the mainstream march, and so in observing ANSWER's patterns in those demonstrations, I want you to disregard the initial black bloc activity.  This march followed the first pattern, where the march left from Lafayette Park, took a circuitous route around DC and then returned to its origin point.
Also realize that many in the anti-war community hold ANSWER in somewhat low regard, yet they still come out to their marches.  I think I put it best today when I described ANSWER as "the Wal-Mart of protest movements".  And it makes sense. ANSWER, like Wal-Mart with their stores, has this amazing way of getting people to come to their events.  But at the same time, both are held in somewhat low regard, even by those who attend.  ANSWER demonstrations usually draw groups that have a heavy socialist lean to them, and there are too many people handing out literature.  One may remember that I used to collect the various literature that was handed to me and scan it all in as part of the photo set.  I stopped doing that in 2006 because it gave unbalanced coverage to various groups, not all of which I supported and believed deserved coverage in my photo sets.  Additionally, ANSWER itself is closely aligned with the Workers World Party and the Party for Socialism and Liberation, which I'm not too keen about.
With the march successfully hijacked and now going into Lafayette Square, the lady from ANSWER "security" who had previously yelled obscenities at us was really mad now, and things were potentially going to get ugly with her.
---
---
That incident right there is the reason that ANSWER needs to dispense with their own private, volunteer-based security and leave it to the police to provide the security.  The police are trained to deal with people like her, and since they're going to be there anyway, you might as well use them.  If the purpose of the volunteers is to guide the march along the route, don't call them "security", but rather call them something else.
---
The mainstream march followed us to the White House!
---
Now, as the main protest approached the White House, SDS's group split into two.  Some people went to join Cindy Sheehan's surround-the-White-House event, while others stayed in Lafayette Park.  I joined this latter group.
After chilling out with these folks on the grass for a bit, we ultimately decided to call it a day.  With many of us still somewhat tired from Funk the War the previous day, and with many of us desiring to conserve some energy for the following day's immigration march, we decided to call it a day, and went to get some lunch and replenish some fluids.
---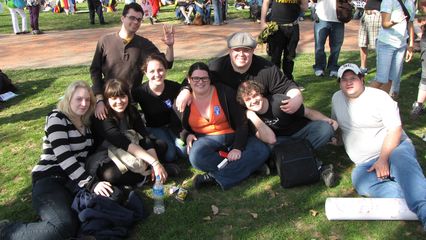 Group photo of the call-it-a-day group at Lafayette Park.
---
The initial discussion was to go down to Pentagon City via Metro for smoothies and such.  Then the discussion focused on something more walkable.  That led us to a decision to go to California Pizza Kitchen in Dupont Circle (how is it that every protest somehow ends up in Dupont?), at Connecticut Avenue and N Street NW.  Leaving Lafayette Park, we picked up on something – the noise of the protest that we had grown accustomed to for the last several hours was fading as we got further away.  We could sense the quiet.  That was definitely a nice feeling, as we needed to unwind a bit.
Going up Connecticut, we eventually discovered, much to our dismay, that the California Pizza Kitchen location that we were looking for had closed.  We quickly devised a "Plan B", and ended up at Baja Fresh, a Mexican restaurant similar in quality to Chipotle.  Not a bad place to have lunch.
After spending a few hours there, and meeting Maggie and Kate's mother in the process, we eventually called it a day.  I helped one of the people in our group get a bus ticket printed, and got her into a taxicab.  And that was it!  From there I headed into Dupont Circle station, and caught Breda 3245 for the ride back to Glenmont.
Getting home again, I once again posted videos, and wrote a Journal entry about the event.  I got the camera equipment ready for a third day of activism in Washington, and then eventually went to sleep.  More activism in the morning, after all…
Part 2