J27 Anti-War Demonstration
Part 3
Someone finally got the group to leave the Capitol when they said, "The master is not inside!" basically reminding us that this was a weekend, and that members of Congress were unlikely to be inside.  As we left, one person remarked, "Bye, government!"  We ultimately returned to 3rd Street, where it looked like we were going to march somewhere, but were ultimately stalled in the street for what felt like a long time.
---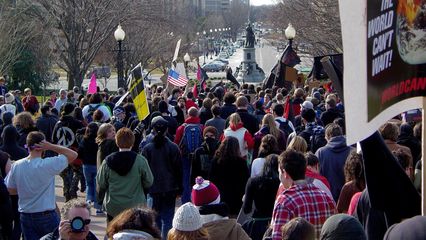 The black bloc, along with a significant amount of mainstream marchers, returns to the street.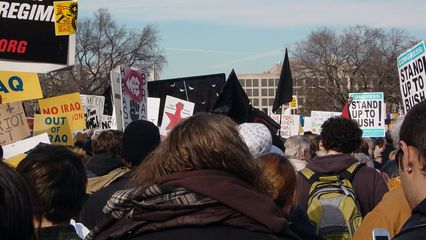 ---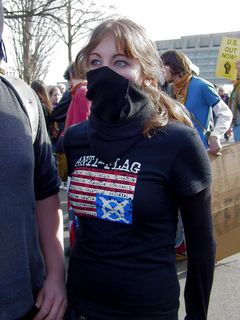 In the street, I ran into the first person I saw wearing the Anti-Flag shirt, now masked up.
---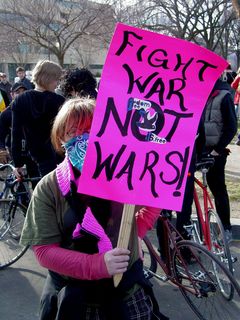 This woman carries a sign with an interesting spin: "Fight war, not wars."  That's deep.  Fight against the concept of war, rather than wage war.
---
As a further indication of our lack of direction by this point, we again started singing The Ants Go Marching One By One in the streets.
---
The black bloc is stalled in the streets…
---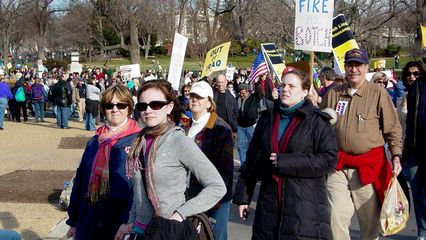 Part of what stalled us, besides our lack of direction, was actually the mainstream march, as it passed right by our location on 3rd Street.
---
Then all of a sudden, we rushed the Capitol again.  We literally took off running, heading for the north steps on the west front (the steps on the left side when looking at the Capitol).  What I found most interesting is that while the black bloc certainly led the chase, we had a large following of people from the mainstream march coming to join us.  At this second visit to the Capitol, we were once again stalled at the steps.  Then I smelled something: spray paint?  Turning to someone next to me, I asked, "Do you smell spray paint?"  They agreed with me.  And what do you know… someone had actually tagged the sidewalk in front of the Capitol – twice, in fact.  One tagging session placed "We will win" and an anarchy sign in green paint on the sidewalk.  Another painted "All cops are pigs" and a middle finger on the sidewalk in black paint.
---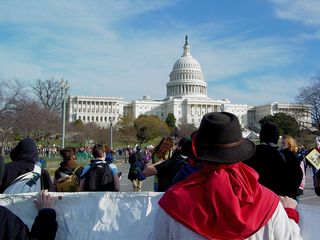 The target has been sighted…
---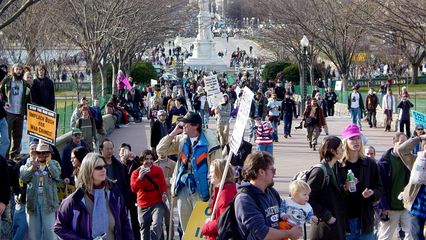 And before I knew it, we were up at the Capitol's steps again, bringing quite a bit of the mainstream crowd with us.
---
"Whose Capitol?  Our Capitol!"
---
We have congregated in front of the Capitol once again!
---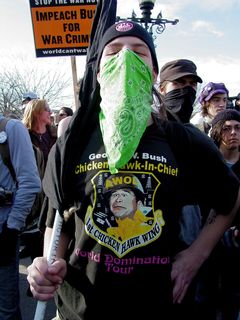 I love this shirt, depicting George W. Bush as the "Chicken Hawk in Chief".
---
Another great shirt I saw was this one that advocated picking noses rather than fights.
---
"U.S. out of the Middle East!  No justice, no peace!"
---
"Who do you protect?  Who do you serve?" directed squarely at the police officers.
---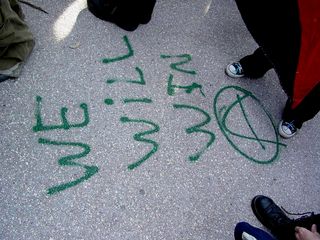 "We will win" and an anarchy sign is spray painted in green onto the Capitol steps.
---
"All cops are pigs" and a middle finger are spray painted in black onto the Capitol steps near the other message.
According to this article, the graffiti was quickly removed by staff of the Architect of the Capitol.
---
Shortly after this, we left the Capitol for what would be the last time while I was with the march.  We walked over to a grassy area to the east of 3rd Street NW, along the Mall.  Here, we worked to rectify our lack of direction, which had by this time become painfully obvious.  Everyone sat in a circle, and the gentleman who had earlier tried in vain to give our march some direction was able to help get things moving again.
---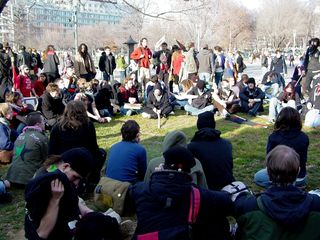 The black bloc convenes in the grass by 3rd Street NW, with the goal of restoring direction to our march.
---
The White House was suggested, but it was ruled out early on.  If nothing else, we were near the Capitol at 3rd Street NW, and the White House was northwest of us, at 16th Street NW.  That's thirteen blocks.  What ultimately happened is that marchers familiar with Washington DC were put at the head of the march, and they determined that we would march to a military recruitment center at 14th and L Streets NW.
And with that, everyone got up, and we were off, as the march headed down Pennsylvania Avenue.
---
We got off of the sidewalk and into the streets, and we are underway again, with a renewed sense of direction.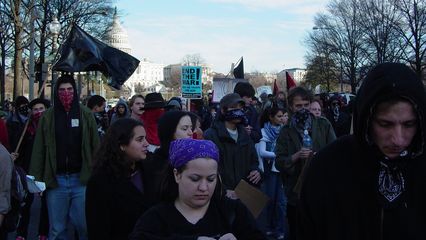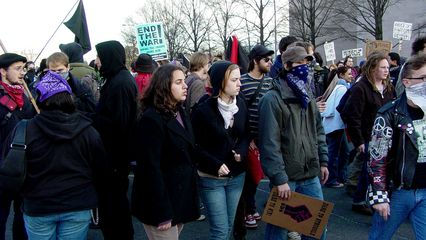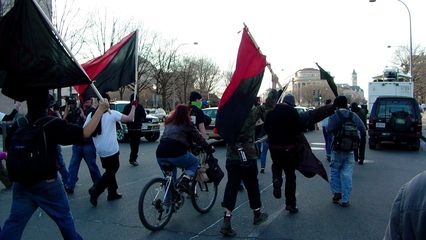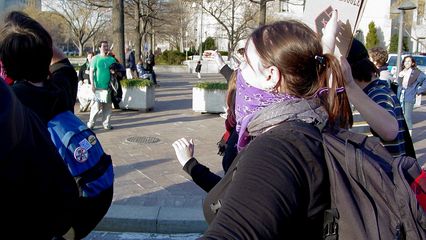 ---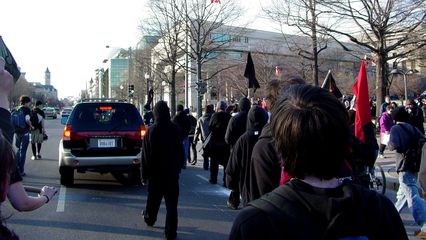 Once again, we're stopping traffic in its tracks, this time on our way to the recruitment center.
---
"F— this war!  F— this war!"
---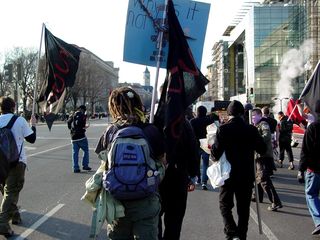 And the march continues…
---
By this time, it was around 5:00 PM, and I was starting to wear down.  We'd been at this for six hours already.  Additionally, with Big Mavica's being on its tenth CD and its third battery, it was starting to wear down as well.  I had plenty of CDs, but I was approaching the end of that third and final battery, which meant that Big Mavica would have to be stowed for the remainder of the day fairly soon.  I was already beginning to have difficulty keeping up with the march, and knowing that the Archives-Navy Mem'l-Penn Quarter station was not very far ahead, I had a decision to make.  That decision was, do I continue, or do I bail?  With Big Mavica just about dead and with my being really tired as well, I ultimately decided to bail.  On the northwest corner of 7th Street and Pennsylvania Avenue NW, I stepped onto the sidewalk, and let the march pass.
---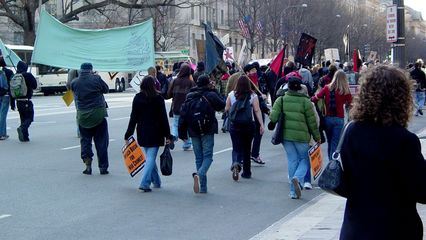 Until next time, black bloc…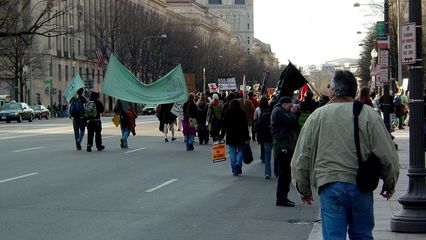 ---
According to reports on DC Indymedia (here and here) made after the march was over, the black bloc ultimately reached the recruitment center at 14th and L.  There, someone threw a rock and broke a window.  There were no arrests, but there was a brief scuffle between demonstrators and the police.  From the recruitment center, the black bloc returned to the Capitol for a third time, but no one was arrested as of 6 PM.
---
Seen here in this February 12, 2007 file photo taken two weeks after the march, the recruitment center at 14th and L Streets NW still sports a broken window from the protest.  Whoever threw the object to break it really nailed it…
---
Meanwhile, at 7th and Pennsylvania, I took a break.  But first, I got a photo of the sign of a young demonstrator carrying a sign.
---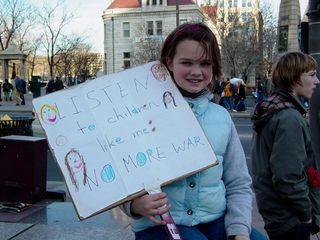 Sometimes, a child's point of view puts things into far better perspective than that of an adult.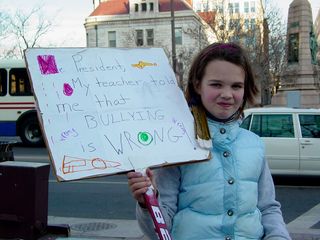 ---
That's when Big Mavica finally called it quits for the day.  I got a few photos of the sign, Big Mavica saved those photos, and then it indicated to me that it was totally out of power, folded up its lens, and turned itself off.  Big Mavica went in the backpack.  Its work was done for the day, whether I liked it or not.  I wasn't finished photographing, though, because my cell phone had an on-board camera.  I considered this to be adequate to finish out the day.  I also undid the bandanna at this time, as I was, for all intents and purposes, through with it for the day.  I also took off the little black hat I had on, fluffed up my hair, and put my glasses back on.
I also had a wonderful discussion with the young protester and her mother about how wonderful it is to see people that young getting involved in the anti-war movement.  After all, I didn't get involved in the anti-war movement until the end of my college years.  Of course, when I was growing up, things were different.  I was born at the beginning of Ronald Reagan's first term, and so the first eight or so years of my life saw the winding down of the Cold War.  Then when Operation Desert Storm happened, I was still too young to really be able to wrap my mind completely around it.  Then the Clinton years had no major wars.  It wasn't until 2003 that I became involved, going to my first anti-war demonstration in April of that year.
After they departed, I saw a group carrying black flags and dressed mostly in black.  I correctly surmised that they had been in the black bloc from that day.  I asked them how they thought it all went.  They asked if I was there, too.  They didn't recognize me.  It's understandable, though, since one of the main components of the standard black bloc outfit is a mask.  So I said, "Wait a sec."  I took my glasses off again, put on the little hat, and held up a red bandanna.  I said, "Recognize me now?"  They were like, "Oh, yeah, I remember you!"  I found it slightly amusing that they remembered the mask.  Of course, it was hard to tell who was who in the black bloc through this particular event, in part due to the temperature change that happened midway through.  Early on, everyone was really bundled up for the cold, wearing that over whatever they were wearing for the protest.  Then once it warmed up, people started taking things off and changing clothes.  I had taken off my winter coat and lowered the hood on my sweatshirt.  Others similarly shed outerwear, and changed shirts, masks, hats, etc. to keep up with the temperature, to the point where the bloc looked quite different when it was done.
After they departed, I ran into another former black bloc participant.  We had a long discussion about politics and protests.  All in all, not bad.  After we parted company, I took a moment to call Mom at home.  She had left me a message on my cell phone during the protest, but due to all the commotion of the protest, I never heard it go off for her call.  But no worry.  Mom wanted to know how things went, and so I reported back that things went quite well.  After finishing on the phone with Mom, I headed into the Archives-Navy Mem'l-Penn Quarter station, since my next goal was to visit the Infoshop.
---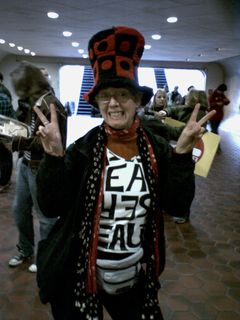 In the station mezzanine, it was full of protesters ready to go home, buying farecards and asking for directions.  Meanwhile, I got a photo of this woman giving the peace sign.
---
Let me tell you, though, it was a very crowded station today.  The platform was packed for much of its length, mostly on the Greenbelt side.  I decided that this was going to be my one ride on the Green Line for the day, so I would be taking a Green Line train to Mt. Vernon Square station.  The first Green Line train to arrive was packed to the gills, and even the Metro employees on the platform were telling people that you can only fit so many people on these trains, and that it was already quite full.
---
It was certainly a crowded scene on the Archives-Navy Mem'l-Penn Quarter station platform.
---
So I headed down the platform towards the inbound end, since I figured that getting on at the head end of the train would have less crowding than in the middle.  There, on the platform, I ran into my photographer friend from September 24 and Night March.  He'd asked me where I'd been much of the day.  I'd been with the black bloc.  It turned out that he'd been with the mainstream march all day, as he had not gotten the memo about the SDS Radical Youth Bloc march from Dupont Circle.  Admittedly, though, that memo was only put out on DC Indymedia at 6:57 PM on Friday night – 16 hours before the actual event was to begin, so it's forgivable.  I got the memo right after work that Friday.  Finding out about the black bloc, he was like, "Dupont Circle, why didn't I think of that?" as it seems that Dupont Circle is so often a gathering place for black blocs.  After all, the black bloc had the center of Dupont Circle on J20, the A16 march went to Dupont Circle, and the feeder march on September 24 started out at Dupont Circle.  And then while we were waiting for the train, we took the opportunity to catch up on stuff.
---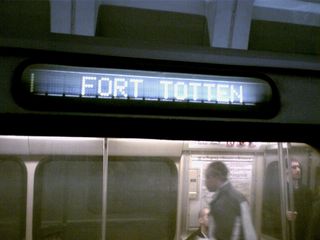 While we were waiting, I also took the opportunity to get accustomed to photographing on the Metro with my cell phone, testing on this Breda 4000-series car.
---
Our Green Line train finally arrived, and so we boarded Rohr 1261, the second car in the set.  He was going all the way to Greenbelt, and I was going to Mt. Vernon Square.  At Mt. Vernon Square, we parted company, wishing each other well until the next time we met.
Emerging from Mt. Vernon Square station, I was basically in regular-DC-trip mode again, but still wearing my protest clothes.  On the way to the Infoshop, I stopped in at Giant Food and used their restroom to change back into my green shirt.  So I came in wearing my black bloc hoodie and had my coat around my waist.  I left wearing my green shirt with my winter coat over that.  Note that the knot I tied my sleeves into around my waist took a little doing to undo.  It was a challenge, but somehow I managed it.
At the Infoshop, where they had recently put Linux and Mozilla Firefox on the computer (much to my delight), I finally got a chance to sit down and pour out my initial thoughts about the march while it was all still fresh in my mind.  I ultimately deposited all of this into my Journal, composing this entry about the day's events.
Leaving the Infoshop, I rejoined the Metro at Mt. Vernon Square, took the Yellow Line down to Huntington (and also a nap on the way), and then rode back up to Pentagon City.
---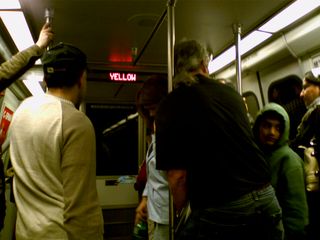 On Breda 3278 going towards Huntington, it was quite the crowded scene on the train, with participants at the Washington Auto Show boarding at Mt. Vernon Square, and participants in the protest boarding at Gallery Pl-Chinatown, Archives-Navy Mem'l-Penn Quarter, and L'Enfant Plaza.
---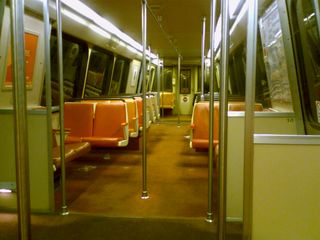 Meanwhile, Breda 3139, which I rode back up to Pentagon City (once again fully alert, by the way), was not crowded by any means.
---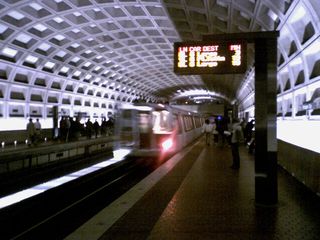 Breda 3139 departs Pentagon City with one taillight out.
---
There, I went over and visited the skating rink at Pentagon Row, and then had dinner at Champps and read the newspaper.  By the time I'd finished, it was on the other side of 10:00 PM, and so I started making moves toward returning to Vienna and heading home.  Returning to the Metro, I took the opportunity to fiddle with the cell phone's movie feature, referred to as "Flix" by Verizon.  Usually I won't ever go near this feature, since Big Mavica makes it fully redundant.  But with Big Mavica spent for the day, having depleted its third battery by 5:00, it was worth a look.  I ended up taking four movies on the Metro with my cell phone, all at Pentagon City, and all of trains on Track 2 (outbound).  The movies were so-so.  I also got pictures while I was fiddling.
---
Two of the cell phone videos that I took while waiting for the train at Pentagon City.
---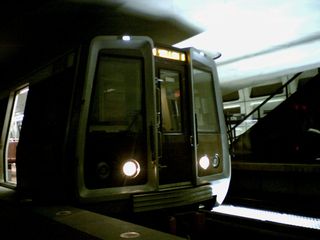 A Yellow Line train awaits passengers at Pentagon City.
---
Eventually, Breda 3035 showed up, and that took me to Rosslyn, my transfer to the Orange Line.  After waiting for a bit, and watching a Blue Line train pass by, Breda 3045 arrived to take me back to Vienna.
---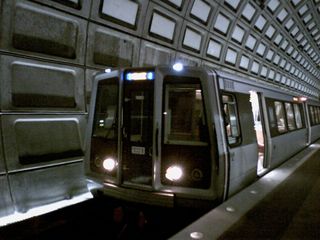 The aforementioned Blue Line train passes by on the lower level of Rosslyn.
---
And as if to show how much I'd taxed all of my equipment during this trip, my cell phone's battery finally gave out around West Falls Church.  Thus by 5:00 I had no camera, and by 11:00 I had no phone, both due to lack of battery power to power them.  So that made for a boring last few miles to Vienna, as I had been playing a game on my phone before it died.  But no worries.  Once I got to Vienna, I'd get into the Sable, and plug the phone up to the car charger.
And then before I knew it, we were at Vienna again.  The big surprise at Vienna was that it wasn't the usual guy with Transit Police as the late-night police officer at Vienna wishing everyone a good night.  This time it was three Fairfax County officers in their gray uniforms (compared to Transit's dark blue uniform) wishing all a good night.  I asked why the change, and it turns out that Fairfax helps Transit out periodically with the stations in their jurisdiction (i.e. Vienna, Dunn Loring, West Falls Church, Huntington, and Franconia-Springfield).  Well, fun.  And then from there, it was back to the car, where I warmed the car up, plugged up my phone, and stowed everything else for what would turn out to be an uneventful ride home, making my usual stops.
At my stop in Woodstock, I checked my by-then recharged cell phone for news about the protest, and it did not disappoint.  I found this article about the day's events.  I was really tickled to read this passage:
The rally on the Mall unfolded peacefully, although about 300 protesters tried to rush the Capitol, running up the grassy lawn to the front of the building. Police on motorcycles tried to stop them, scuffling with some and barricading entrances.
Of course, I was tickled about seeing that, because I was in that group of 300-some people, and I saw it unfold firsthand.  Then after finishing in Woodstock, I returned to the car and resumed my journey.  Just before 5 AM, I arrived in my driveway, safe and sound once again.
All in all, this day was absolutely awesome, and I was amazed at what I was participating in on so many occasions during this march.  It seems that with every one of these that I go to, the black bloc and its activities manage to top themselves from the time before that.  With that in mind, I can't wait until next time…
Part 3