Splash Photo Archives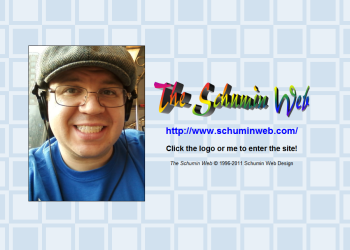 When I redesigned the site in 2002 to the "Minimalist" design, I also redesigned the splash page (example seen at right), which, from February 2001 until June 30, 2012, was the first page people saw when entering the site.  Until August 2002, the splash page contained the logo in large size and the URL, with an invitation to click to enter.  With the 2002 redesign, the splash page reduced the size of the logo and added a picture of me, which I changed monthly.  This was the splash page's design for more than nine years, with only minor color changes throughout the years until the splash page was discontinued with the completion of the site's conversion to WordPress in 2012.  At that time, the splash photo feature was temporarily moved to the Welcome page.  When the site was redesigned in September 2012, the splash photo, though now smaller in size, was placed in the upper right corner of every page.
Since August 2002, I have run many photos in the spaces where the splash photo has resided, with "whatever I find interesting" as the guideline.  All of the photos that have come and gone over the years are listed here, and I hope that you will find these photos interesting, too…
---
---
Attempting to ice skate at Pentagon Row.

Notes: Those of you familiar with Metro will recognize the FliteStar safety vest I am wearing. I thought it was clever at the time to wear the vest because I had no clue what I was doing skating, but looking back, it seems a little unnecessary.
| | |
| --- | --- |
| | Leaning against the south entrance pylon at the Largo Town Center Metro station. |
| | |
| --- | --- |
| | Standing in the bottom of the empty fountain at Malcolm X Park in Washington. |
| | |
| --- | --- |
| | Sis and I smile with Santa Claus in downtown Rogers, Arkansas in the late 1980s. |
"Here comes the Thnikkaman!"

Notes: I dressed up as The Thnikkaman for Halloween, and this is how I looked in the costume.
| | |
| --- | --- |
| | Posing with the Chevy Chase Bank ATM mascot outside the Gallery Place-Chinatown station in Washington DC. |
| | |
| --- | --- |
| | Self-portrait off of a mirror outside of a parking garage in downtown Washington DC. |
| | |
| --- | --- |
| | Self-portrait at Nauticus in Norfolk, Virginia. |
| | |
| --- | --- |
| | Posing with the word "EXIT" made out of Tinkertoys at the tender age of five. |
Posing with the giant metal fly outside Amazement Square in Lynchburg.

Notes: A number of the photos from this day's trip became part of the Downtown Lynchburg Photography set.
| | |
| --- | --- |
| | I photograph my shadow as I hold up my Metro farecard at the entrance to the Federal Triangle station in Washington DC. |
| | |
| --- | --- |
| | Big smile in Lee Hall at Virginia Tech. |
Pretending to drive a Harrisonburg Transit bus.

Notes: The bus in this photo is a Gillig Low Floor.
| | |
| --- | --- |
| | "Weakest Link" parody. |
| | |
| --- | --- |
| | Posing with a giant nutcracker. |
| | |
| --- | --- |
| | My rather lame Halloween costume from 2004. |
| | |
| --- | --- |
| | "Vote November 2" message with a picture of the United States flag in front of the US Capitol in Washington DC. |
| | |
| --- | --- |
| | I've been caught shopping! |
| | |
| --- | --- |
| | Flashback photo, showing a seven-year-old version of myself riding the Casino Carousel in Asbury Park, New Jersey. A more recent photo of me is in the circular inset. |
---