Splash Photo Archives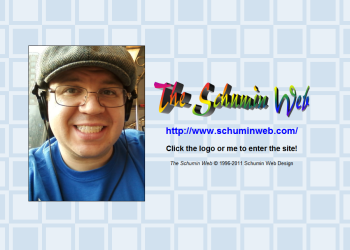 When I redesigned the site in 2002 to the "Minimalist" design, I also redesigned the splash page (example seen at right), which, from February 2001 until June 30, 2012, was the first page people saw when entering the site.  Until August 2002, the splash page contained the logo in large size and the URL, with an invitation to click to enter.  With the 2002 redesign, the splash page reduced the size of the logo and added a picture of me, which I changed monthly.  This was the splash page's design for more than nine years, with only minor color changes throughout the years until the splash page was discontinued with the completion of the site's conversion to WordPress in 2012.  At that time, the splash photo feature was temporarily moved to the Welcome page.  When the site was redesigned in September 2012, the splash photo, though now smaller in size, was placed in the upper right corner of every page.
Since August 2002, I have run many photos in the spaces where the splash photo has resided, with "whatever I find interesting" as the guideline.  All of the photos that have come and gone over the years are listed here, and I hope that you will find these photos interesting, too…
---
---
Unpacking a coffee table for Christmas.

Notes: This was originally intended to be a "How The Grinch Stole Christmas" parody, but the concept was abandoned before it got very far and the picture was run without any significant modifications.
| | |
| --- | --- |
| | Outside Pentagon City Mall in Arlington, Virginia during the 2002 "Photo Essay Blitz" photo shoot week. |
Yeeek! Spider!

Notes: This spider was hung from the ceiling with phone cord (the phone cord was out of frame). The googly eyes were made of paper and taped to the front of the spider.
Reading a book while sitting at the desk for RA duty in Potomac Hall.

Notes: A number of people commented that this photo looked as if I was trying to move the book with my mind. Interesting interpretation, though definitely not what was intended.
| | |
| --- | --- |
| | On the Quad at James Madison University. |
---