February 11, 2005, 2:23 AM
I went to Washington DC on the first-regular-trip-after-a-big-demonstration trip on Wednesday. And yes, this being the first trip after a big demonstration is significant. I've always found that those trips, which I've experienced three times in the past, always feel a bit odd. On those trips, the most recent DC memory is of a big demonstration, and not whatever regular antics I get into. Who knows. Hard to describe, but it always feels a little strange.
Anyhow, the trip could be best described as a day of meeting old and new friends. But before meeting anyone, I first took some close-up photos of 1117 19th Street in Rosslyn, which is currently undergoing demolition. Recall, from my J20 Life and Times set: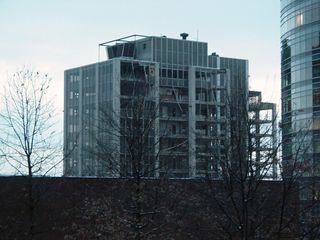 Continue reading…
August 7, 2004, 12:48 AM
Yes, this phrase actually happened to me at Metro Center on Wednesday, on the Red Line platform in the direction of Shady Grove. That was delay number three of three delays I experienced on the Red Line. Let me tell you what happened…
First of all, after going out to Rockville to meet Oren of Oren's Transit Page, I went out to Shady Grove to see the Shady Grove rail yard, the adjacent Ride-On bus yard, and get a rail-to-bus transfer to use on Ride-On a little later.
So after I got back to the train at Shady Grove and boarded, the train operator made this announcement:
"This is the Red Line to Glenmont by way of downtown Washington DC. Stand clear, doors will be closing."
This was followed by the "doors closing" announcement and the chime. And we're off! Or so we thought. Before we've even completely cleared the station, the train stops, and the train operator said that we are experiencing a delay and that we will be going back to Shady Grove and opening the doors again. So the train is put into reverse and we are back where we started. "Doors opening!"
Continue reading…