August 14, 2022, 7:57 PM
On Thursday, July 28, Elyse and I took a trip up to New Jersey.  The main purpose of the trip was to visit the Scrub Daddy headquarters in Pennsauken, where the company has a retail store.  Then we built a day around this in order to justify the trip.  We were no stranger to Scrub Daddy by any means, as we had previously stopped by their facility on the last day of our Atlantic City trip back in January, just to see where it was.  I remember how excited Elyse was during that visit to Scrub Daddy's headquarters, and on that occasion, we just photographed the outside of the building, since the retail store wasn't ready yet.  I could only imagine how excited Elyse would be going in and actually seeing the place.
We left the house around 10:00 AM, and got as far as Delaware House by noon.  This was to be our potty stop on the way up.  Elyse noticed an Edwards Integrity on the outside of the facility, and got some photos of it: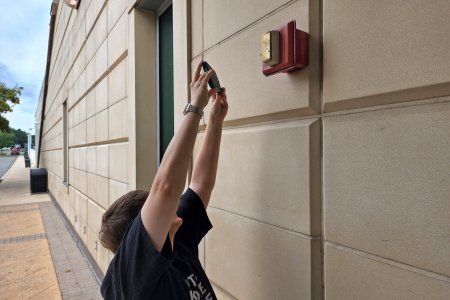 Continue reading…
August 18, 2019, 12:55 AM
August 13 was a day of unexpected twists and turns, for sure.  What was supposed to be a trip to Philadelphia with friends ended up turning into a trip to New York City for Elyse and me.  As originally planned, we were going to meet up with Brian, Trent, and a few other folks from the DC area who were traveling up separately at 30th Street Station, and the bunch of them plus Elyse were going to go fan transit for a while, while I did my own thing, mostly photographing in and around Center City.  That didn't happen.
What caused our plans to change was twofold.  First, the weather forecast called for storms all up and down the east coast.  So I would have to figure out something else to do, as I would be rained out.  Secondly, we were running a tad late due to traffic around Baltimore that led us to take a more southerly route before resuming our planned route.  Once we got up there, the plan was to park in New Jersey and then ride PATCO into the city.  What happened, though, was that the other group didn't want to wait for us at 30th Street Station, and so they went and continued with their plan without Elyse, and took SEPTA Regional Rail out to Norristown, with the idea that we would catch up with them later.  We learned this while we were on PATCO riding into the city.  So essentially, they ditched us.  We did not take too kindly to this, and so rather than chase them in an effort to catch up with them, when it was pretty clear that we were not a priority (otherwise, they would have waited for us), we did our own thing instead.
We ended up getting off of PATCO at City Hall station in Camden.  There, we walked over to the Walter Rand Transportation Center station for the River Line.  Neither of us had ever ridden the River Line, so this would be a new experience.  We were surprised that there was very little transit-oriented development around the River Line stations.  Much of what was right around the stations that we could see was older construction that predated the service.
Continue reading…
June 30, 2016, 6:15 PM
Back on June 9, Elyse and I took a one-day road trip to Philadelphia.  From the outset, this was to be something of a transit adventure, with a visit to the SEPTA gift shop as one of the main priorities.  On the way up, Elyse even got annoyed with me for a few restroom stops (hey, when nature calls…) because she didn't want to miss the SEPTA store.  But then as we were heading up I-295 towards Lindenwold station to get PATCO, I commented as we were approaching the exit for US 322 that this was the exit that you would take to go see my old house in Glassboro.  Her response was an enthusiastic "Let's go!"  Looks like someone just gave up their right to complain about the time.
That said, we went over to Glassboro, and over to 304 Cornell Road.  I was surprised to see how nice the place looked: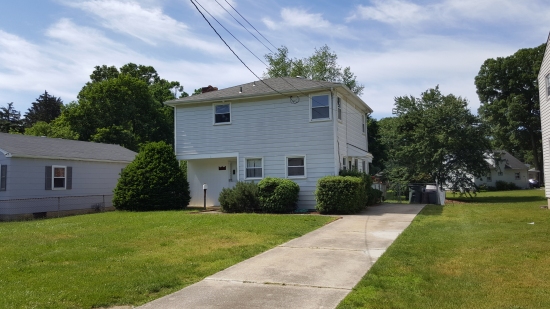 Continue reading…
April 28, 2015, 11:29 PM
Back at the end of March, I went up to Philadelphia with my friends Melissa and Elyse.  We had a list of things that we wanted to do, and we did as many of them as we could.  We had a blast, plus we got to meet up with my cousins Mike and Tara for dinner.  This trip was also a proof of concept for how my various little outings might go now that I routinely work late nights, since my typical workday runs from approximately 4:00 PM until just before 2:00 AM.
Logistically, it worked out this way: Melissa met me at Glenmont station around 11:00, and then we traveled up to Howard County to get Elyse.  Then from there, up to Philadelphia via I-95.  Then in Philadelphia, everything that we were planning was transit-accessible, save for one thing, but we worked it all out pretty well.
Our first point of interest was the non-transit-accessible one: the SS United States.  This would be a quick look-see for some photos, and then move along to other targets.  We parked at the IKEA store across the street, and then Elyse and I walked over for a look (Melissa stayed in the car).  Here are pix: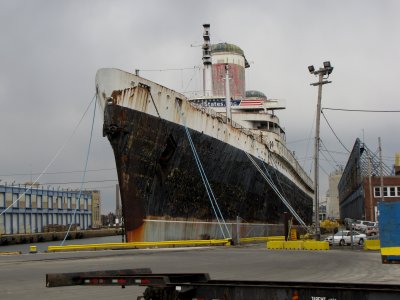 Continue reading…