November 9, 2003, 12:45 AM
Yeah, I saw Monty Python and the Holy Grail on Friday night. The whole family is all like, it's a great movie and such. I saw it for the first time, and they insisted I not see it like I see most movies I watch – while doing something else on the computer.
My review of it, after having seen it for the first time? It did not live up to what the rest of the family promoted it as. According to them, it was like the movie to end all movies, and incredibly funny. I found it to be somewhat "eh". It had its amusing parts, but I didn't enjoy it like they did. Not my type of humor, I guess. The first scene involved a long, drawn-out argument on a technicality. I don't know… it just got old rather quickly for me.
However, I did find out where Battle Chess got the knight-on-knight fight idea, where the winning knight cuts off the losing knight's limbs. Lifted straight out of the movie.
October 27, 2003, 2:40 PM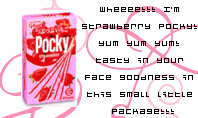 Yes, another one of those quizzes. This one about the Pocky crunchy cookie-sticks. I'm strawberry Pocky. Good stuff, that Pocky. You can get it in places that sell Asian products, or just slide on down to the Chinatown nearest you.
October 25, 2003, 11:16 AM
I watched Saturday morning cartoons this morning… I'm amazed what they do nowadays. Of course, it's better than one cheesy cartoon after another like it used to be, but still this is amazing.
We start out with a children's version of Trading Spaces. Here, two kids and one friend each, plus a designer and a decorator each, trade spaces and redecorate the other's room. Different designers and different host from the regular show, but still interesting. A major difference I noticed is that they don't mention their budget at all. All in all, though, I enjoy Trading Spaces in general, and this was no exception.
Then there's "Endurance 2". This reminds me of a kiddie version of Survivor, except it appears that the kids get to shower and get, like, real accommodations during the show, compared to regular Survivor, where they totally had to fend for themselves. Still, they have stunts and a form of "Tribal Council" where teams who are marked for elimination play "Paper, Rock, Scissors" with elements wood, water, and fire. Interesting.
Interesting what they show nowadays, indeed…
September 30, 2003, 5:41 PM
You may have heard of the Forgetful family (from Today's Special). You know… Frannie, Farley, Freddy, and Flo Forgetful. I should just change my name to "Frankie" and join right in, because I'm just feeling all paranoid about forgetting something. And so far, I haven't forgotten anything, that I know of. Somehow, I just have this fear that I'm going to forget where I parked the car today (in the parking garage at JMU), and walk all the way to my usual space in J-Lot and then realize that I'm parked way across campus from my usual space. Don't ask me why, I don't know. I've just been a little paranoid about that.
Now of course, the Forgetful family takes it to a bit of an extreme, forgetting to put wheels on the car, or forgetting who their own cat is, and so on, but still, I'm just afraid I'll forget something.
Next thing you know, I might just scream out "KEVIN!" or something like that.
August 28, 2003, 12:01 PM
Sometimes, you've just got to have fun, and so I'm having fun this afternoon with some of those "What kind of _____ are you?" assessments. They're fun, I find them rather meaningless in the big scheme of things, but now that I have an online journal, I can post these, because they are quite fun to do.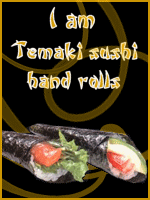 Continue reading…
August 8, 2003, 8:46 PM
Boy, oh, boy, those Cosby kids grow, watching Raven-Symone on her Disney Channel show. Also, that kid who played 3J on Family Matters is on this show. Talk about how these TV kids grow.
Meanwhile, it's FRIDAY NIGHT! Two days away from the Office on Youth, so I can recharge the batteries, and return on Monday morning, as the ball of productivity that has come to define my Mondays.
Seriously, at the Office on Youth, my most productive day really is Monday.