September 24, 2004, 4:20 PM
My sister is home for the weekend! What a surprise! I wasn't expecting her to come home until some time in October. So that was neat. Her boyfriend Chris brought her home to us. And as a result, I finally got to meet Chris. We have to take her back to Tech, though. Chris should chip in the $20 or so in gas. But you know how poor college students are. So we'll forgive him for it, since he brought us a pleasant surprise.
So why Trogdor in the title? Well, Sis and Dad and I were all talking about something, and how Dad pulled up something on Urban Dictionary to back up an expression that he used. I chimed in how I added a few definitions there myself. My sister said how she found a thousand definitions for "Trogdor" on there.
My father had no idea who Trogdor was. I know who Trogdor is. I showed him, doing up a quick doodle.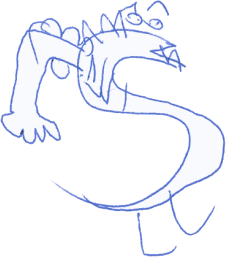 Continue reading…
June 8, 2004, 10:33 PM
Let's compare for a moment… who looks better in their blue vest? Let me present to you…
Continue reading…
June 2, 2004, 10:39 PM
Yes, my birthday present is now officially on order: two Strong Bad tees. If only it worked like this, though…
Hey Strong Bad,
Get Bubs to give out free luncch (sic) specials and I'll show you a hot girl.
Sincerly (sic),
Someone
Maybe if I can get Bubs to say his name backwards minus the first B, legend has it we can get a free lunch special, and maybe a free T-shirt if we're really lucky.
Now if we can only get him to make another appearance on H*R as the Thnikkaman, and life will be perfect.
Though I should let you know that the current plan for the June cover photo (and by extension an explanation why one is not up yet) is that I am planning on dressing up as the Thnikkaman for the cover photo. A little tribute to one of my favorite Homestar Runner characters.
Still, I can't wait to get my Strong Bad T-shirts. It will go quite well with my sister's Teen Girl Squad T-shirt.