August 14, 2006, 4:04 PM
The detour is done! The complete rebuilding of Route 608 (Cold Springs Road) has been completed, and so now we have our road back.
To give you a little background information, for the past six months, those who live in my neighborhood have had to go this way to get to US 340 and on to Waynesboro, marked in red: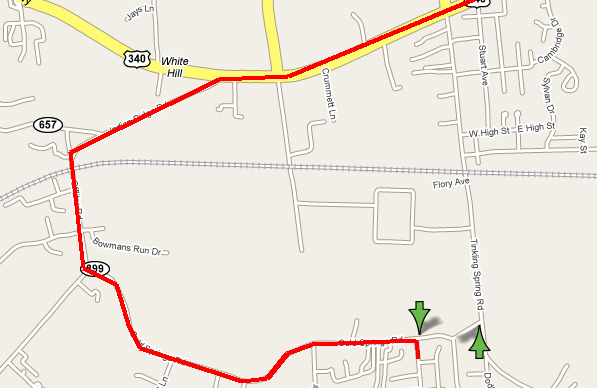 Image: Google Maps
All that distance to get out of the neighborhood. And the work area, meaning the section of road that was closed, is the section of road in between the green arrows. To give you a comparison, the regular way to 340 is as follows:
Continue reading…
March 26, 2006, 4:46 AM
After receiving an anonymous message through my Instant Messenger that sandals with socks were a major fashion no-no (even though Sis has told me that for years), I finally kind of had one of those what-the-hell moments. So I left the socks at home.
You may recall I did this once before – last year. I wrote about it in the Journal at that time.
The funny reaction I got was when I realized that sandals without socks is basically like going commando for your feet. No socks is like going without underwear, after all. A coworker overheard and said, "You did not just say what I think you just said!" I repeated myself, and they admitted then that they didn't hear the word "feet".
Also, a few unrelated things… first of all, the construction site where they've been rebuilding Route 608 in Stuarts Draft is now what I would describe as "drivable with extreme care". The road is technically closed to traffic, but VDOT can't fully block it off due to houses, a farm, and a business along that stretch of road that still have to have access to the outside world. So I drove it today as a little side trip. The road is definitely straighter and higher than it was before, and it will have curbs and storm drains, which the road previously lacked. Supposedly, it's to be complete in August (moved up from the original October completion date), but I'll believe that when I see it. It will certainly be nice going the regular way again, rather than taking this lengthy detour through a somewhat windy road, where people have a tendency to drive too fast.
And on a second unrelated note, I went to Charlottesville yesterday, by way of Crozet. They're filming parts of Evan Almighty in Crozet, where they've built a giant ark for the movie. I took some pictures of it with my cell phone, and I'll show you those once I get them all downloaded.
September 6, 2005, 8:06 PM
I found this on a friend's AIM profile, and I was laughing out loud at it. I've lived in Stuarts Draft for thirteen years now, which means that most of my life has been spent in this area. Some of it is just SO true, while other parts of it are a stretch. So here goes.
You know you're from the valley if…
You think the traffic on 340 at 5pm on a Friday is a major traffic jam.
If you go to Wal-Mart and you see at least 10 people that you know pretty well.
The smell of manure makes you homesick.
When people ask where you're from and you never give the specific town… but somewhere about 30 miles away (Charlottesville,
Harrisonburg).
When you're showing an outsider the town, they're shocked that so many people wave in
passing… even though you don't know half of them.
Two words POTATO GUN.
If you remember shopping at Roses or skating at TRB's in Waynesboro.
If the Stuarts Draft Fireman's Lawn Party and parade was a must.
If you remember when 340 (through Stuarts Draft) was a two-lane road.
You had a heart attack when we got TWO Wal-Marts!
"Bring your tractor to school day" was a regular part of spirit week.
You went to the Frontier Culture Museum for a field trip every year in elementary school.
Wright's Dairy Rite, a movie, and Wal-Mart is the ideal date.
"Stuarts Draft" is pronounced as one word.
You're driving down the road and you smell cow manure, you don't roll your window up, you just breathe it in.
One of the cliques at your school was the "Aggies."
Your parents had the same teachers in school you did.
Interesting, no?
March 3, 2005, 11:26 AM
Note what I've circled: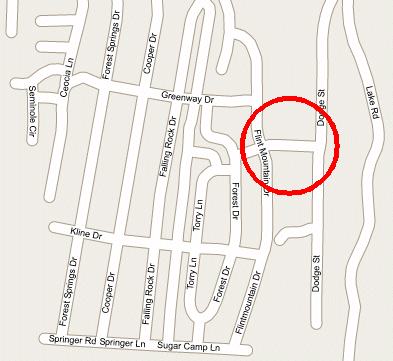 Continue reading…
May 25, 2004, 9:20 PM
Yes, Sis and I encountered a strange group of people across the street from the house today. They were using weed eaters to weed-eat the area around the creek that runs near our house. Still, we were trying to figure out what this group was. Most of the people were wearing blue pants with a red stripe down the leg. These same people also wore bright orange T-shirts, the official don't-run-me-down color.
Then there was also a person there in a blue work shirt, and a uniformed officer from somewhere. I couldn't make out the uniform, and I wasn't going to break out the binoculars.
We figured it was likely that these people were inmates of somewhere, considering the bright orange shirts plus the uniformed officer. But then I thought that the sign of inmates was the that the guy supervising was always very obviously holding a large shotgun. Plus, think of the children! This is a residential neighborhood, and I didn't think they could use inmates in a residential neighborhood.
Still, it was definitely an odd sight seeing all these people running weed eaters at once.