September 21, 2009, 11:21 PM
It makes one wonder – what the crap is wrong with the drivers up here? This is like the outer reaches of the Philadelphia region, and these people drive like maniacs. These drivers make Fairfax County drivers look calm. What really got me is when I got passed illegally on the right on a two lane road because the guy behind me thought I was going too slowly. That just blew my mind. Otherwise, these people won't let you in, and show no mercy.
And what makes this even more frustrating is that it's not like these people are doing this on a six-lane road like Georgia Avenue or Rockville Pike. This area looks like a cross between Staunton and Stuarts Draft. The roads are narrow, mostly two lanes. And the lines at the lights are long, and the area doesn't even look like it would be jammed with commuters, but it is. One thing, though – Philadelphia drivers don't honk like we do in DC. DC-area drivers are quick to lean on the horn, and I'll admit having driven with my hand close to or on the horn more than once. In the DC area, we don't give people the finger so much. We just blow our horns.
Otherwise, though, the drive up here was uneventful. I-95 is kind of old and needs upgrading in places, but those drivers were fairly courteous. It's these commuters that are ruthless.
Continue reading…
March 30, 2009, 1:21 AM
On Saturday, March 28, Anonymous DC pulled off a surprise raid outside the Church of Scientology in Philadelphia. We told no one, not even our own parents. We called it "Operation Inquisition", because no one was expecting us, just as no one expects the Inquisition. And at 9 AM, we departed, arriving in Philadelphia just past noon. Thank goodness for HT's GPS, which guided us straight to our destination without problem.
And having parked the cars, our raid began outside the Church of Scientology in Philadelphia. This was a very different experience than raiding outside our own local Founding Church of Scientology. For one, we have more room in DC. We have the sidewalk in front of the Founding Org, as well as the triangle across the street. In Philadelphia, we had half of a somewhat narrow sidewalk in front of – get this – a "storefront church". Yes, the Org in Philadelphia is a storefront location, with two "Free Stress Test" signs on the door. How fail.
But regardless of what it might have looked like, we raided it. The cops, who came out to see what was up, even noticed that we weren't the usual Anonymous that raids outside this Org. Yes, we were from DC, and Philadelphia Anonymous had been "pwned".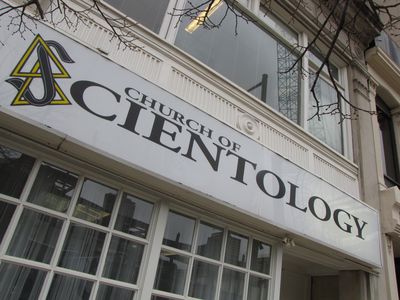 The storefront Org.
Continue reading…
November 4, 2007, 10:10 PM
Well, from the suburbs of the city of brotherly love, at least. I'm not in Philadelphia proper. Anyway, though, I made it. I am spending three nights in Fort Washington for a class in Blue Bell.
What's weird, though, is how the locations go. I live in Montgomery County, Maryland. Then I traveled however far it is to Philadelphia, to end up in… Montgomery County. Pennsylvania, mind you, but a Montgomery County, nonetheless.
And then otherwise, it cost $11.75 in tolls to get up here. Every time I looked, it seems, there was a guy in a yellow safety vest with his hand out. The Fort McHenry Tunnel in Baltimore cost two bucks. The Susquehanna River bridge cost five bucks(!). Then the Delaware Turnpike, the short stretch of I-95 in Delaware, cost four bucks. Then driving a few miles up the Pennsylvania Turnpike cost another 75 cents.
I'm just glad that tolls are few in the DC area. The only toll road I know of in my area is the Dulles Toll Road.
Continue reading…
November 2, 2007, 9:16 PM
This Sunday, I'm going to Philadelphia, and I'm staying until Wednesday. I'm taking a course which explores the function of a Macintosh in great depth. For those of you familiar, it's MacOS 101, which is titled "Mac OS X Support Essentials v10.4". In short, I'm going to be able to troubleshoot a Mac like the pros, so that when a Mac hiccups, I should know how to cure those hiccups, or at least tell you why it's hiccuping.
Then I'm also going to have two computers in tow. Since I'm going to be doing some of my regular work while I'm out on this little business trip, I'm going to have "Jeff", one of our office Macs, with me. Then I'm also going to have Lappy, my personal laptop, with me for taking care of the Web site and such while I'm out.
And the drive is almost all Interstate, too, starting at the Beltway in Silver Spring, and going almost all the way to my hotel in suburban Philadelphia. Specifically, it's mostly I-95, which should be interesting. Last time I rode that stretch of I-95 was to go up to New Jersey in January 2003 for a funeral. So we'll see.
Continue reading…