April 7, 2004, 2:14 AM
April 6 also marked the first time I broke out the sandals for the 2004 season. My sandals are Earth Shoe brand, which I bought in 2002 in the Dayton Wal-Mart.
Why 2002? I bought two pairs of sandals for that year, and only used one. Then in 2003, because of all the rain we had that summer (it was a LOT of rain), I never wore sandals that year. So thus for breaking out the sandals, I pulled out these two-years-in-reserve sandals. They still look good, and you can't tell that they're from two seasons ago.
And I, being the geek that I am, wore socks with them today. Yes, socks. But hey, socks help keep sandal odor away, and that can smell really foul. And additionally, if I can keep sandal odor away, that means I can get away with not having to buy sandals mid-season.
March 23, 2004, 11:52 PM
It was an associate's birthday, and so I got to sing Happy Birthday over the loudspeaker for them, at the urging of one of our CSMs. So my rendition of "Happy Birthday" was the talk of the store today. So that was fun.
Otherwise, I had a little shopping disappointment after work. My order from Casual Male was waiting there on the porch for me. That was exciting. So then I took them in and opened them up. Now I wasn't sure what "French Terry" meant exactly when I ordered the "French Terry Cargo Pants", but I expected more along the lines of what you would think of as cargo pants. These were more like sweatpants. They were too much like sweatpants to use at work. So I never even took those out of their little bags.
I also got some Dockers corduroy pants. Those fit the program as far as appearance, but failed in the fit, being too small in the lower leg (that's a new one – usually it's quite loose around my calves, and I'm worrying about waist and thighs). So I neatly folded the pants back up and put them back in their little bag. How disappointing.
Continue reading…
December 13, 2003, 12:07 AM
So I finally got new shoes, and after you see what the old ones look like (I took pictures, as promised), you'll see that these were badly needed. The new shoes are Airwalks, and are black with white laces and accents. Cute shoes. The style is called "Ricco". Take a look: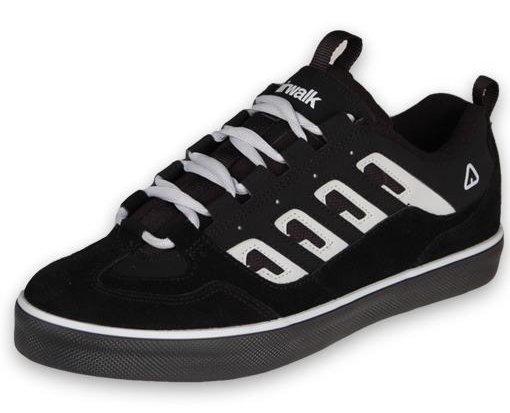 Continue reading…
December 12, 2003, 11:11 AM
Today, before work, take two in trying to get new shoes. I went to The Shoe Department at the mall in Harrisonburg yesterday, and they were out of Airwalks. So I'm going to go to Staunton Mall before work today and check out their branch of The Shoe Department and see if they have some Airwalks. And if not there, I'll go to Super Shoes across the street from the mall.
And let me tell you… the shoes I have now could easily be described like this: "Did you just come from church? (No, why?) Then why are your shoes so holey?" Yeah. I have a big hole in the bottom of my left shoe, a tear in the top, and a hole developing in the toe of the right shoe. All from regular wear, not abuse, or even any few strenuous uses.
That's what happens when you wear shoes every day day in and day out for a year. They really get some use. And I'd say that I got my money's worth out of them. That and then some more.
I will be taking pictures of these shoes once I get a new pair to show you exactly how hard I wore these shoes. It's amazing, trust me.