November 21, 2018, 1:48 PM
Back in the middle of October, as part of a weeklong vacation from work, Elyse and I took a trip to upstate New York and northeastern Pennsylvania.  The first day took us up to Cortland, New York.  The second day, we explored Scranton, Pennsylvania.  The third day, we briefly explored Wilkes-Barre, and then went down to Centralia before heading home.
Our route on the first day took us from home up I-270 to Frederick, and then US 15 to Harrisburg.  We had planned a stop around Harrisburg in order to photograph Three Mile Island from across the river, but scrapped it due to bad weather (clouds).  We can day-trip it to Harrisburg any time, and traveling to the spot for Three Mile Island would have been a significant detour.  We both agreed that we weren't going to make a long detour for bad photos.  Once we got to Harrisburg, we joined Interstate 81 for our travels north.
I definitely got to know I-81 a whole lot better than I did before taking this trip.  Previously, I had traveled on I-81 from its southern terminus near Knoxville as far as exit 116 in Pennsylvania, from my Centralia trip in May (prior to that, I had only traveled as far as the I-78 split).  Now, I've traveled the entire length of I-81 in Pennsylvania, and also 52 miles in upstate New York.  If there's one thing to be said about I-81 north of Harrisburg, it's that the views are outstanding.  I-81 runs through the mountains, and it's quite a sight.  And just like it does in Virginia, it skirts around every single city, which doesn't make for the most interesting trip.  I prefer when freeways go through the cities like I-95 tends to do, because it gives me something to look forward to, and also keeps me more engaged.
But thankfully, we had this license plate game that Elyse found in a thrift store, so as we spotted different states' license plates, she turned that state over on the board.  The most unusual license plate that we saw was for St. Maarten, at a Sheetz in Dillsburg, Pennsylvania.  Why a vehicle from St. Maarten was in central Pennsylvania, I don't know.
Continue reading…
November 4, 2018, 2:59 PM
Last night, Elyse shared a photo with me from Facebook depicting a school bus making a stop way out in the middle of the road: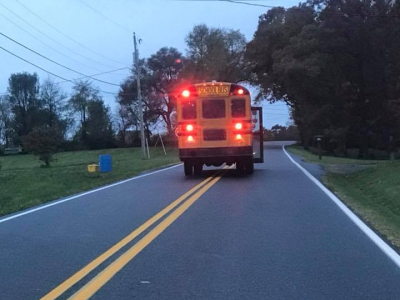 Photo: Dana Shifflett Farrar
The photo was captioned, "With the string of school bus accidents, I loved how this bus driver intentionally placed itself [sic] in the middle this morning.  At first I wondered what they were doing, then I realized the kids had to cross the road.  Well done, sir."  I don't know where this specific location is, but considering that the person who posted it is from Shenandoah, Virginia, this likely depicts a location in Shenandoah County, Virginia, and as such is most likely a Shenandoah County school bus.  This was likely done in reaction to recent news stories where children have been injured while going to school.
Continue reading…
October 24, 2018, 10:00 AM
On October 8, I went out to Morgantown for the day with Elyse, Brian, and Trent.  This was a fun little trip, with the intention of exploring the Personal Rapid Transit (PRT) system and also seeing a few elevators, as the three of them are very much into elevators.  I'm not as much into elevators as they are, but I've learned a lot from them.
It's a long drive to Morgantown, that's for sure.  From Montgomery Village to Morgantown took us about four hours, with stops in Frederick, Sideling Hill, Cumberland, and La Vale for various (mostly restroom) needs.  I was amazed about how mountainous Interstate 68 was, particularly west of Cumberland.  It felt like we were constantly going up a mountain, but the HR-V was killing the hills like a champ.  This trip also brought out the roadgeek in all of us.  We took I-68 from its eastern terminus in Hancock, and, since we were practically there already, rode 68 to its western terminus at I-79.
Sideling Hill was known territory to everyone.  We had all been there before, but the view was still worth a look.  However, it was foggy on this particular day: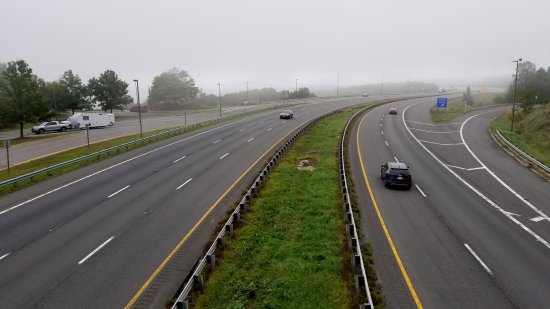 Continue reading…
May 24, 2018, 5:40 AM
On May 17, 2018, I took a solo trip up to Centralia, Pennsylvania.  For those not familiar, Centralia is something of a modern ghost town, having gradually been abandoned due to a coal mine fire that's been burning uncontrolled beneath the town since 1962, likely caused by deliberate burning of trash in the town's landfill, which was on top of a former strip mine.  As of 2013, the town had only seven residents remaining, and when those remaining residents pass on or otherwise leave the town, their properties will be seized via eminent domain.
I had done some research about the site, but was a bit iffy on whether it was going to be good or not.  I was concerned about its being a bust, but it was still intriguing enough to make the trip.  And as it turned out, it was pretty cool.  The biggest "attraction" at Centralia is an abandoned section of road known as the "Graffiti Highway".  That road came about when Pennsylvania Route 61 began having subsidence and visibility issues due to the coal mine fire.  The state built a new alignment for the route on more stable ground in 1993, and the old alignment was abandoned.  Since then, many people have come by and left graffiti tags on the road, which gave the road its nickname.  Besides the road, there are also several cemeteries in Centralia, as well as one remaining active church, Assumption of the Blessed Virgin Mary, a Ukrainian Greek Catholic Church.
When I went up, I wasn't quite sure how it would work out.  Based on my research, as well as a little Google sightseeing, there were the roads of the former town surrounded by empty land and a few houses, and the possibility of seeing steam from the mine fire rising from the ground.  The Graffiti Highway was most intriguing.  I'd heard mixed reports about how accessible the Graffiti Highway was, though.  When it was still under state ownership, my understanding was that police tended to chase people away on a routine basis.  I didn't want to travel that far just to get chased out.  But last fall, the state vacated their easement, i.e. they gave up the right of way, determining that it will never again be used for a road, and ownership of the land reverted back to adjacent property owners.  So I believe that the old road is now on privately owned land, and as such, the heavy enforcement went away now that the state no longer owns the land.  In any case, no one bothered me on my visit.
Continue reading…
February 26, 2018, 1:56 AM
No one ever told me that losing a car would be so difficult.  The car itself is gone, and after about a week in a rental car (a Hyundai Accent), I am now the proud owner of a Honda HR-V, a crossover SUV: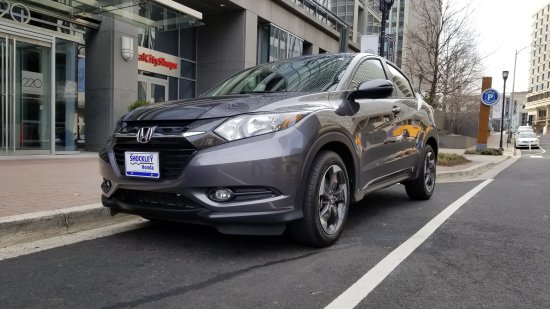 Continue reading…