Splash Photo Archives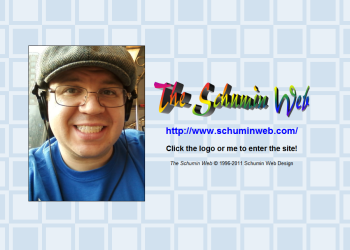 When I redesigned the site in 2002 to the "Minimalist" design, I also redesigned the splash page (example seen at right), which, from February 2001 until June 30, 2012, was the first page people saw when entering the site.  Until August 2002, the splash page contained the logo in large size and the URL, with an invitation to click to enter.  With the 2002 redesign, the splash page reduced the size of the logo and added a picture of me, which I changed monthly.  This was the splash page's design for more than nine years, with only minor color changes throughout the years until the splash page was discontinued with the completion of the site's conversion to WordPress in 2012.  At that time, the splash photo feature was temporarily moved to the Welcome page.  When the site was redesigned in September 2012, the splash photo, though now smaller in size, was placed in the upper right corner of every page.
Since August 2002, I have run many photos in the spaces where the splash photo has resided, with "whatever I find interesting" as the guideline.  All of the photos that have come and gone over the years are listed here, and I hope that you will find these photos interesting, too…
---
---
Selfie at the Baltimore World Trade Center.

Notes: This photo is related to the "Fun at the Inner Harbor!" Journal entry.
| | |
| --- | --- |
| | At Dave and Buster's in North Bethesda, Maryland. |
Laying back on a giant beanbag chair at LoveSac in Annapolis Mall.

Notes: For more photos from this day, see "Lights on the Bay!" in the Journal.
Recreating a pose from childhood with the "falling down stop sign" on Cornell Road in Glassboro, New Jersey.

Notes: This is the original photo, taken around 1983.
| | |
| --- | --- |
| | Sitting on a giant bean bag chair at Costco. |
| | |
| --- | --- |
| | Selfie while taking a walk on the Matthew Henson Trail. |
Standing in a giant chair at Westfield Old Orchard in Skokie, Illinois.

Notes: This photo is related to the "Chicago 2013" Journal entry.
Tribute to Uncle Klunk, a guest character in The Rock-afire Explosion, though generally considered something of an abomination.

Notes: For more information on Uncle Klunk, see the Uncle Klunk page on ShowBizPizza.com.
| | |
| --- | --- |
| | Wearing my new "Camp Rainbow" shirt in a much smaller size than the original.  The old one is visible in a photograph in the background. |
"Refrigerator inspector" at Best Buy in Arundel Mills.

Notes: This is also apparently my "241543903" moment (look it up on Google).
| | |
| --- | --- |
| | At home, wearing my CFW sweatshirt. |
Monkey wrench.  Whose plans shall I throw this into?

Notes: Believe it or not, that's a $100 monkey wrench that I'm posing with right there.
| | |
| --- | --- |
| | Wearing my "I took the plunge!" shirt. |
| | |
| --- | --- |
| | At the Baltimore Inner Harbor. |
| | |
| --- | --- |
| | Beginning to laugh as I take my own photo on the webcam. |
---